We all wish we had that idea that spread like wildfire. Hotmail, or Napster, for instance. But with so many millions of ideas floating to the surface of people's minds on a daily basis, how do you get something to spread?
Tradeshows, surprisingly (or maybe not surprisingly), are naturally built to spread ideas. There are lots of mediums that can spread ideas: books, podcasts, radio shows, TV shows, online video, email, and so on. But tradeshow marketing has a few advantages (and a few disadvantages, which we'll look at shortly).
The big advantage of using the medium of tradeshows to spread an idea, whether it's a product or service that you're marketing, is that you have a gathering of people that are specifically interested in your products. Or at least they're specifically interested in the market in which your product sits. Another advantage is that the attendees usually have a lot of influence in the company they work for and the market that they work in. Which means if they see an idea they like a lot, one that resonates with them or helps them out, they'll talk about it. They'll spread the idea to others that can also spread it, or act on the product or service represented by the idea.
What about the disadvantages? Even though the attendees at the show have a lot of influence, it's somewhat of a closed system. If you want the idea to spread outside of the market that the tradeshow addresses, you'll need to go beyond. Having said that, perhaps that's not even important.
Another disadvantage that tradeshow have as far as spreading ideas is that it's largely a marketing effort, not an effort to spread an idea. But it can be done. I think back to 2009 when I attended Outdoor Retailer Summer Market in Salt Lake City. In promoting his new cameras, several times a day GoPro CEO Nick Woodman would stand on a table in the company booth, and shout and scream and give away t-shirts and other swag, and finally give away a few new cameras. His enthusiasm, hype and excitement simply could not be ignored if you were within hearing distance. To win, you had to sign up on one of their kiosks and opt in to an email list – and you had to be there to win when they gave away the goodies. They stilluse thesame approach (without Nick, though); I saw them do the same thing at NAB Show earlier this month.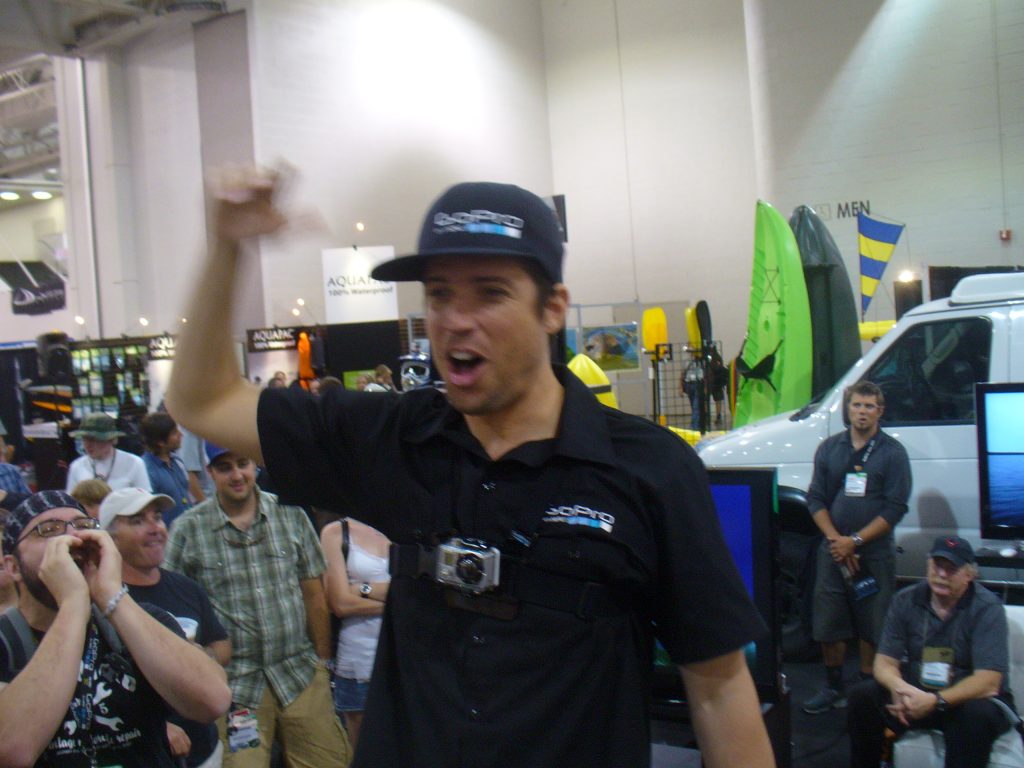 At the time, the idea of a standalone "action camera" was new. By using tradeshows as a marketing platform, or marketing medium, GoPro was able to spread the idea of the standalone cameras right when the competition was the new smartphone, and older digital cameras. But the GoPro could be attached to your helmet, your torso or even to a skateboard or surfboard or whatever – and with the wide-angle lens, it captured exciting and dynamic footage. The idea was so new and unusual, it created a new genre of cameras, which have been replicated by other companies in an effort to compete.
If the product or service brings with it such a forceful idea, it can definitely spread like a virus. And tradeshows can be used effectively to help launch the idea into the wider world.