Zoom fatigue hit you hard enough yet? Tired of waiting for people to join you in your Zoom room and then wondering about all of the books on people's shelves or what's new in their background since the last time you talked to them on Zoom?
Hey, I get it. We are all kind of tired of the ways that the pandemic has impacted us. But buckle up, because it's not going to change much in the near future. As a recent meme said, "Omg, what's the first thing you're gonna do when YOU get the vaccine shot?? You're gonna go back home, wait a month, get your second shot, go back home, wait 14 days for antibodies, then keep wearing a mask and social distancing until community transmission reduction. That's what."
So there's that. But as humans, we still crave connection and contact. Here are a handful of ways to stay connected in spite of the fact that we won't be going to tradeshows any time soon.
Pick up the phone. Yeah, not much different than a Zoom call, but it's a little less formal (as if Zoom is formal in any sense); it's a little more casual and your concentration is on the voice of the person you're talking to much more than it is on the background in the call.
Video call: Zoom, Google, Skype, Facetime, etc. But take it off the business side of your life. My family and I have a Zoom call every couple of weeks on a Sunday afternoon. I have three brothers in the northwest. My mom, who is turning 93 in a few months, is up Santiam Canyon. Last year we got her a MacBook Air and she's learned the basics: email, creating and printing documents, listening to music, surfing the web. And Zoom calls. She loves them, and so do my three brothers (two younger, one older). The conversations are goofy, free-flowing and valuable.
Send a postcard. Since last summer when I started cleaning out my closet and found a small box of postcards that have been around for decades, I've been randomly sending postcards to friends, near and far. Postcards are cool. They're different. And if you have a photo you took of someone, it's pretty cool to send that to them as well (check out my SendOutCards account for more info on that).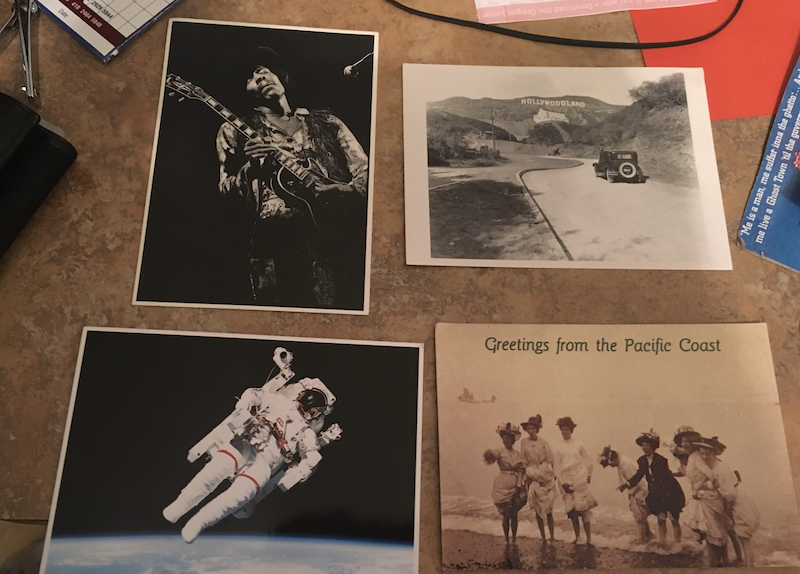 Send a letter. When's the last time you sent a letter – not an email – to someone in your circle? Like a prospect or a client? Letters are different than an email. They're oddly more personal and professional at the same time, because, hey, who takes time to print a letter and stuff it in an envelope, anyway? I did this a few weeks back. It was cool. And I found out that several people had moved, so there's that.
Send a gift. It doesn't have to be anything fancy, maybe a $10 coffee card, or some brownies (again, SendOutCards is great for sending gifts). When it comes to gift-giving, even on a small budget, the options are endless. While your inclination might be to send branded swag, I don't think that part really matters. It's such a rare thing to send someone a small "just thinking of you" gift that you'll probably do better with something that doesn't have your company logo on it. Sending a coffee card is a good way to schedule a virtual coffee with employees, clients or prospects.
Virtual Classes. On a wider scale, you might consider teaching what you know. If it's not something you're used to doing, you might start with a short five-minute tutorial on something simple.
---