It's a good question to ask: how much do you delegate for tradeshow success? Most clients I deal with have someone in charge of the overall tradeshow project. Maybe they're a Marketing Manager or Tradeshow Manager, or some other title such as Business Development Director. Most of them work with a small team.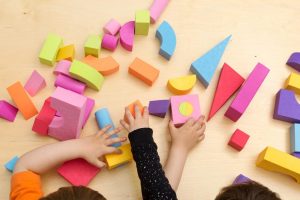 Which means there is a certain amount of delegation and collaboration going on. Multi-tasking may be something that people try, but research tends to show that too much multi-tasking leads to less success. How do you walk that fine line between doing too much yourself as someone in charge of the project and just telling everyone else what to do, in essence leaving little for you except overseeing the project? Maybe if you're a control freak you find it extremely difficult to give control over an aspect of the project to someone else – but you gotta learn how to do it! One of the challenges of doing it all yourself is that while you may have control over everything, there's a chance that the standard of work will slip.
The good thing, I suppose, is that there's no 'one-size-fits-all' answer. Teams are different sizes, members have different skill sets and experience.
When it comes down to it, there are a handful of items to consider when managing a team for a tradeshow project.
Know Your Team
Many marketing teams we work with at TradeshowGuy Exhibits have an assortment of methods of getting the job done. For example, some teams outsource graphic design. Others outsource shipping and logistics. Some keep all of those things in-house. Most will hire an exhibit house for the final exhibit design and fabrication if it's a new project, but the remainder of the tasks will often lie elsewhere. If it's another show with your current exhibit, but a certain amount of updating needs to take place, it may not be as time-consuming and involved, but it still has to be done right.
Communicate Clearly and Often
The lack of communication is one of the biggest downfalls of collaboration and delegation. When a task is delegated, make sure that both parties are in full understanding of, and in agreement of, the specific tasks assigned and the deadline under which they must be completed. Even though you may have an in-person conversation or a phone call, I always recommend that a short email be created that details the tasks – if nothing else, in bullet points. There should also be an expectation that if problems, issues or challenges come up, that those will be brought to your attention as soon as possible. Like one of my old bosses once told me: "Bring me good news as soon as possible. Bring me the bad news even quicker."
Know What to Delegate
Some items on the project to-do list will need approval from management for them to be completed. Other items will be less demanding. Since you're in charge, it would make sense to keep the highest-skilled tasks to yourself, and the ones that till need buy-in and approval from management. Many tasks that go to other team members will also need instructions, especially if they're new to your team. It may seem obvious to you how something is done, but if you're assigning a task to someone, make sure they understand how it's done – and how to know it's done correctly.
Feedback is a Two-Way street
Once the project is complete, give feedback. If your team has done well, publicly thank them for the work and hand out genuine praise. But if some of them have come up short, let them know that as well. I've heard it said that you should "praise in public, criticize in private." It's a good approach. And make sure that all of your team members are free to offer their thoughts on how you're delegating: did you give instructions that were clear? Did you make sure the right people got the right tasks, etc.?