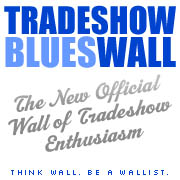 Jeffrey D. Brown has re-launched Tradeshow Blues, a website that he's maintained for years mostly as a labor of love. Tradeshow industry folks have congregated around features such as "Spill the Beans" and the Tradeshow Wall.
Jeffrey and I have had a number of conversations over the years and I find him to be a passionate advocate for tradeshow marketing. Definitely picked up some useful tips from him and the site, too.
Jeffrey's on Twitter, so you might give him a follow at http://twitter.com/tradeshowblues.
One thing which fascinates me is the Tradeshow Wall, an interesting take on the 'wall' concept which seemed to be the rave for a short time back in, what, 2005? But it's a wall with a twist. Take a look and see what you think!
Jeffrey also hosts a guitar wall, a wall for Orange County and the Housing Wall – just launched to help people find homes.
The Guitar Wall in particular is a terrific resource for anyone interested in guitars (me!). Lots of links to guitar manufacturers and suppliers.
Okay, rock on!