Ready for a new custom booth, but don't know where to start? You might consider putting together an RFP (Request for Proposal) and sending it to 3 – 5 exhibit fabricators.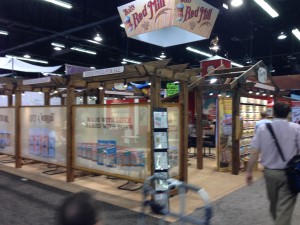 Whatever your approach, make sure you have an internal company discussion that addresses your booth needs: size, branding, budget, function (needs may include display tables, food serving areas, AV equipment, laptop stations, etc.), transportation (what shows will you attend?), storage, extra signage, interactive items, etc.
Since you're creating a custom exhibit that you'll use for years, take your time: after every show, make notes about what works and what doesn't with your current exhibit. Document what your employees and visitors say. Hold project meetings, get staff input and keep a file.
When it's time to issue the RFP, make it as thorough as possible. Issue the RFP to a handful of exhibit house, be upfront about how many companies you've invited to respond, and make sure the budget and timetable are realistic for what you want. If you can pull that off the chances of creating a fabulous exhibit has increased a hundredfold!