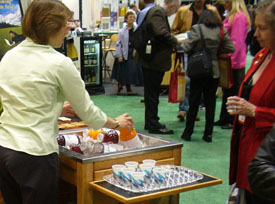 You've no doubt arrived at a tradeshow booth wanting to find out more about the product or service being offered. Maybe you even scouted them out or found them on a recommendation.
But when you arrive you find that the staff greets you with indifference. Or worse, you find yourself ignored, and not because the staff is busy with other customers but because they're chatting with themselves.
What do you do? Turn and walk away? I've seen it happen.
It's a missed sales opportunity that will likely not be regained. All because your booth staffers didn't have the presence of mind or proper training to greet you.
When you arrive at the tradeshow with a well-trained staff, you communicate a subtle message to visitors and fellow exhibitors: We Came Prepared. We're Ready for You. Bring It On.
It's all part of your bottom line: a well-trained staff can increase both the quality and quantity of your take-home leads. Team meetings every day can keep your staff focused and on task. A well-trained staff will invite visitors in by smiling and asking pertinent qualifying questions. They'll determine who's a quality prospect and who's not, and effectively move the prospects into the sales funnel and the non-prospects out of the booth.
By taking the time to train your staff in engaging and qualifying your visitors, you're investing in a valuable resource. And that investment will reap dividends in the real world – your tradeshow marketing ROI.