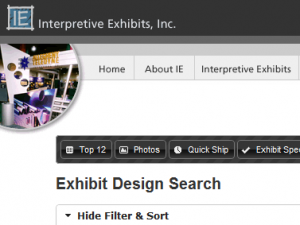 As a long-time distributor of the Classic Exhibits line-up of tradeshow products, it's great to see that there is now a 'deep-well' way to search out one of their exhibits for your specific exhibiting needs.
Exhibit Design Search (link here and also on the navigation bar above) takes you to the database of hundreds (if not thousands) of varieties of exhibits. These range from small accessories such as round graphic stands (definitely cool!) to large island exhibits – and everything in between.
To use Design Search, just click on the link and head to the site. Here's where you'll find the opening page which is designed to let you intuitively and quickly find what you're looking for. If you don't know what you're looking for it's a great browsing tool.

Along the way you can view the Top 12 exhibits, catch a Photo Gallery, see what exhibits can be quickly shipped if you're in a hurry, check out the Specials and even browse the dozens of Tradeshow Tip articles.

Beneath each exhibit rendering you'll see a link labeled "Add to My Gallery" – when you click that you start to create your own line-up of favorites or exhibits you want to save and review closer later. It's a great way to share with other team members to get their feedback.
The drop-down menus allow you to filter your search using price points, booth size and lead times – as well as give you the opportunity to do a text search.
Now all of that by itself would be pretty damn cool. Almost awesome.
But here's what takes the Design Search tool to the next level: the burgeoning P_5_D photo gallery. P_5_D stands for 'Past 5 Days' and it is an on-going stream of photos of exhibits that go out the door.
Not only does this let you see what other clients are interested in (and have put $$ down on), it allows you to see how each one of them has possibly made adjustments and alterations to a standard exhibit. A great way to help generate ideas, eh? Plus: each photo is of something REAL that was actually created – not just a computer rendering of what something is SUPPOSED to look like. Getting a chance to see the real stuff shows you how it would look in your booth.

And if you check the drop-down navigation under the 'View By Week' tab you'll see that the photo albums go all the way back to late 2006 – almost four years of product that has gone out the door to happy customers.
All in all, Exhibit Design Search is a fun way to waste a bunch of time AND look like you're working at the same time. So if your boss comes in you can tell her that you're researching the company's new exhibit possibilities.
And hey, chances are pretty darn good you'll find something that will exactly fit what you had in mind!