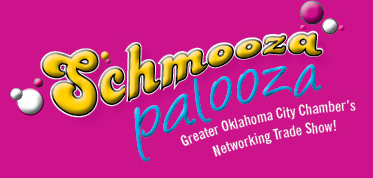 In January of this year we took a look at an event in Oklahoma City called Schmoozapalooza.
According to Jill Harrison, the previous incarnation of their twice-yearly business networking event was slowly dying.
"This was a free tradeshow with no music and no games. There was some food and a cash bar. It was a much more professional event. We had no problem attracting exhibitors, but attendance was declining year after year," said Harrison.
The event was rebranded as 'Schmoozapalooza' with more of a party atmosphere, a live band, games, food and more – and instead of making it a free show they charged $10 admission. It was still a tradeshow with dozens of exhibits (109 this year), and the event was promoted heavily through social media.
The Oklahoma City Chamber of Commerce used LinkedIn, Plaxo, Twitter, MySpace and Facebook to build buzz before the event. They promoted a contest leading up to the event, asking people to send out a tweet with the event hashtag and one good reason why you should be at the event. Random winnder were picked out from the tweets with the hashtag.
During Schmoozapalooza, more contests were held:
First person to tweet about a new friend
Post a pic of something at the show
First to tweet about a new product or service you found
During the event, Twitter screens were up that pulled all tweets with the #Schmoozapalooza hashtag, which further engaged attendees.
Jill says the recent event, just before Halloween, had lots of folks in costume and proved to be a great event with more exhibitors and attendees than the previous one. With two such events each, they've had a number of events to track over the past two years.
This year's numbers:
109 exhibitors
700-800 attendees
5000 FB friends (limit)
Twitter 3467 followers @okcchamber
MySpace 286 followers
LinkedIn 384 Chamber page followers
Plaxo 427 connections
Harrison says there is now quite a buzz around the event, much of it due to social media, as well as the re-casting of the shape of the event. "Guests get one drink ticket with admission and can purchase additional drinks. We really encourage our exhibitors to be creative and think outside the box. The change in atmosphere and reaching out to our audience through social media made all the difference."