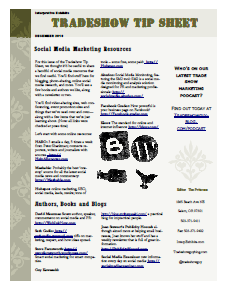 The latest Tradeshow Marketing Tips newsletter is a 'short-list' of our favorite social media resources.
There are places to get started blogging, photo-sharing, doing online social media research, and more. You'll find video-sharing sites, web conferencing, event promotion sites and things that we've used over and over—along with a few items that we're just learning about. If you have a resource to share – please do! Just leave a comment on this post…and thanks!
Download the newsletter with the latest list and get past newsletters here.