No matter what your goals are at a tradeshow, whether you're walking the floor or exhibiting, you probably won't get far unless you have a plan (obviously that's a given) – and are flexible enough to let the plan adapt and evolve as necessary.
This past week at Natural Products Expo West 2011 in Anaheim, my plan – as it originally stood – was to meet people, find out their problems and issues with their exhibits or marketing approach, and have a brief conversation that left me an opening to follow up later with a specific reason. This is the ninth time I've been to the show (we have eight client booths there), so my plan is based on what's generally worked in the past.
As someone just walking the floor, I'm prohibited from offering my services or trying to sell something at the show. That's the way it should be. After all, I'm NOT an exhibitor. Only exhibitors who have paid those high space rental fees have the right to blatantly sell their products.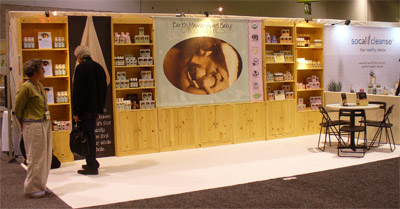 But I can certainly engage people in conversations and see where they lead. More often than not the best way to leave the door open for someone to hear from me is to invite them to subscribe to my monthly tradeshow marketing newsletter. Easy enough to do – I simply ask as I'm ready to leave if they mind if I put them on the list. Only once did someone say no – and that was because they weren't the right person in the company, so the newsletter would have been of no use to them.
And I value not only my time, but the exhibitor's time, too. I want to be in and out of a booth in about 90-180 seconds, which means that I strive to be precise with the encounter. It's the same for an exhibitor, by the way: you should try and keep your engagement time with attendees at a bare minimum. Enough to qualify or disqualify them and to gather pertinent information should they be potential clients.
I started the show with a list of exhibitors and booth numbers that had promoted themselves on Twitter – some 75 at least, along with their Twitter handles. Knowing that it would take fully two days to cover the show and talk to that many booths (along with several others that I randomly stopped at for one reason or another), I figured I had would my hands full.
Turns out the 'Twitter' greeting was very engaging to almost everyone I met:
"Hi, I'm curious who your company Twitterer is? Or would that be 'Tweeter'? I'm Tradeshowguy, I saw your booth number on Twitter and someone tweeted out an invitation to come by!"
It was a bit of a goofy intro that created smiles and broke down barriers. Often I was quickly subjected to what is commonly referred to in sales as an "information dump" where a bunch of product information is dumped on you before the speaker has even bothered to qualify you. I'd just smile and let them go on. Sometimes it turned out to be pretty interesting stuff. Other times…not so much.
(By the way, I found it interesting that over half a dozen people I met throughout the show had heard of me; they were looking for tradeshow marketing tips before heading to Expo West and found this blog. Definitely a nice ego stroke…)
Then we'd chat about Twitter and social media and how they used it to promote their company at the show. If the opportunity arose and they showed interest, I'd mention that I regularly speak about, consult and teach social media. By then, I'm about ready to wrap it up. If they're active on Facebook or Twitter, often I'd offer to take their picture and post it on Facebook immediately (always a big hit – who doesn't like having their picture posted on Facebook?…apparently, no one). Finally, I'd suggest they subscribe to the email newsletter. Again – almost everyone took me up on it…which means they'll be hearing from me once a month. The key: stay on someone's radar regularly and you increase your chances for a future sale.
The real evolution of my approach happened when I discovered that not only did people love to get their photos on Facebook, but they loved to talk about Twitter – even those that didn't use or understand what it could do for them. The natural curiosity of the social media phenomenon was a conversation starter every time – much more than I originally thought it would. So I made a point of beginning almost all conversations with that.
How do you approach your tradeshow marketing? What's your plan? Are you able to adapt and evolve the plan as necessary? Do you need several people to implement the plan, or are you just walking the floor of a show trying to make connections that could turn into future business?
Whatever your situation, make a plan, follow it, and let it evolve as necessary.