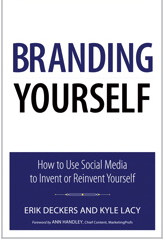 One of the most important things you can do online via social media is to brand yourself, whether as an individual or as a company.
This podcast features and interview with Erik Deckers, who along with co-author Kyle Lacy, recently released the book "Branding Yourself: How to Use Social Media to Invent or Reinvent Yourself."
Erik and Kyle show how to use today's social media platforms to attract new business and job opportunities you'll never find any other way. Erik discusses some of the common mistakes people make in using social media, how to get job leads and projects through friends and followers and much more.