After walking the floor at the Natural Products Expo West for a full day, it occurred to me that a number of exhibitors I had met and talked to the past couple of years were not here. Even though it's huge show with thousands of exhibitors, and it might be easy to overlook them, that's not the case: I looked them up on the show app and couldn't find them.
They had vanished. Why? I wondered.
Of course, there are myriad reasons why a company wouldn't return to a show for a third of fourth year, or even a second year.
It could be that the marketing goals have changed; they don't have enough money; the company went out of business, there isn't a market for their product, they can't establish themselves against their competitors…any number of things would affect the ability of a company to show up at a huge industry tradeshow year after year.
Then I thought of the many companies I've seen and met that DO come year after year. When we discuss the show, and the success they've had, one common theme threads through the discussion: they all build their company's success using the tradeshow as a springboard.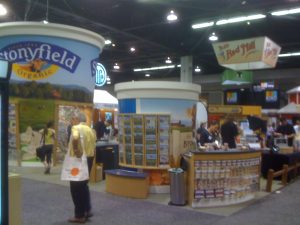 Many of those exhibitors that failed had solid social media marketing efforts. They were active in luring visitors to their booth. But even a good social media effort won't cure the overall problem. What if you get people to your booth and you still fail in execution once they arrive?
If those exhibitors that fail to return to the show are doing things right away from the show, other factors notwithstanding, it really comes down to execution at the tradeshow itself.
There is a continuous chain of preparation and execution that has to happen to ensure the success of the tradeshow marketing effort, and if any one of those links are broken, the whole effort will fail.
Starting with the actual tradeshow booth, on to the pre-show marketing efforts, the show execution, and the follow-up with leads, all cylinders need to be hitting for the full effect: tradeshow marketing success.
While walking the show, I notice things, and one of the most glaring examples I see is staff failure. Many booths seem to have it all going: it's great looking, the graphics are top-notch, the booth is functional and accommodating…yet the staff appears to be oblivious to visitors. They're eating, talking on the phone, standing with their backs to the entrance, ignoring visitors…it's truly astonishing to me that a company will spend tens of thousands of dollars on a booth, travel, booth space rental, advertising, marketing – and yet the whole effort flops because their staff is ill-trained.
There are other, less obvious, failures. For instance, graphics are ill-designed, packed with too much text or not distinguishing themselves from the competition. The photographs and graphics are not catchy enough compared to their neighbor. Or they have a giveaway that's not capturing a specific, focused group of people (anyone want a new iPad? Yes, everyone does, and that's the problem: not everyone is a prospect). When you're competing against thousands of exhibitors trying to catch the eye of someone walking by your booth, you have literally about three seconds to visually grab them. If the graphics are lame or the display is packed with too much verbiage, the visitor won't respond – they'll keep on walking. And chances are they won't be back.
Bottom line: tradeshow marketing can be extremely successful. I see multiple examples and talk to dozens of people that claim tradeshow marketing is their best platform for company growth and expansion. Yet…if a link in the chain is missing, the marketing manager will see the effort crumble, and struggle to identify the problem.
On your next tradeshow marketing effort, do your best to ensure the chain is strong from start to finish.
THEN you can tweet about it!