As a first time attendee at the World Domination Summit over the weekend in Portland, I had nothing to compare it to. Oh, sure, I'd read the blog post on Chris Guillibeau's blog last year that attracted my attention and ultimately led me to grab a ticket in a very short window. On opening night during the street festival/carnival in northwest Portland, several people I spoke to tried to explain why they loved the first year and came back the second year.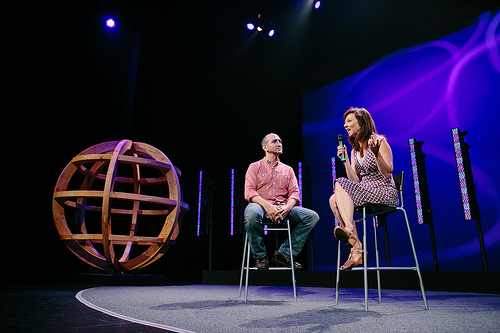 The most memorable description of the event came from Cynthia Morris, whom I met on Friday evening at the street fair and opening party (and who later gave a workshop on creating a book-writing map) said that we're all on a fool's journey in this life, and this conference is here for all of us who recognize that and want support for that journey.
Of course it's much more than that. The World Domination Summit is the brainchild of blogger, author and intrepid traveler Chris Guillibeau, who's made a name for himself (and what caught my attention) by attempting to visit every country in the world (he's still about 20 countries from completing the task). He's created products and written books around the idea of being remarkable and non-conforming in an increasingly average world. The WDS is a gathering of people from more than a dozen countries: bloggers, authors, software writers, photographers, cubicle workers and more. The thing that I think drew them together (and ultimately led me to commit to return in 2013) was that all of them had a palpable generosity of spirit.
Hence, the World Domination Summit. Version 2.0 doubled the attendee list, and tickets still sold out five months in advance.
While I could go on at length about the various speakers and breakout sessions and the countless attendees I met, I was curious to look at WDS from an event execution standpoint.
Non-commercial: WDS had no branding whatsoever except its own. No corporate sponsors, no branded spaces, no onstage interruptions to thank some company for 'helping to make this possible!' This gave the attendees a feeling of togetherness that kept the outside world at bay for the weekend. More on this later.
Staging: the main stage at Newmark Theater in downtown Portland was sparse but effective. The design team created a unique, identifiable and effective onstage statement.
Interactivity: WDS created an online smartphone connectivity platform at WDS.fm that encouraged attendees to find, indentify and connect with each other. They created an online task list called 'The Unconventional Race' which awarded prizes to the top three finishers. While I gave up after several hours after realizing that my phone wasn't quite capable of easily completing the tasks, I followed the regular race updates and was interested to see how others reacted. Some folks really jumped on it and others said it didn't appeal much to them. The portal also gave individual attendees an updated schedule that – once you logged in with your user account – was unique to you. If you needed to know where to go next, the easiest way was to pull up the portal and find the info at your fingertips.
Variety of speakers: Since the speaker line-up was the biggest part of the event, Chris and his team brought a remarkable array of known and unknown presenters. Some were authors, bloggers and successful business people. Others were world travelers sharing tales. Others yet shared amazing stories of extreme life changes and the creation of powerful and effective non-profits. Each speaker, whether an experienced presenter or not, brought passion, uniqueness and touching and inspiring stories.
Crowd-sourced workshops: Months before the event, the 1000 attendees received an invitation to offer their expertise in smaller workshop breakout sessions. Once those submissions were gathered and filtered, the attendees then voted online for the ones they wanted to attend. As a result, several weeks ahead of the event, some 80 breakout sessions were offered on a first-come first serve basis. Once you made a selection, that workshop would then show up later on your personal schedule on the WDS.fm portal.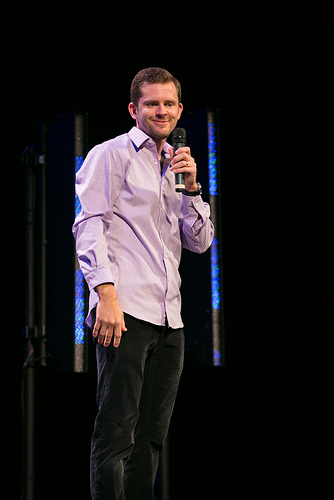 Loads of networking opportunities: Time was set aside each day for attendees to just talk. And talk we did! I forget how many people I met or how many asked me for a card. The first two most common questions seemed to be 'Were you here last year?' and 'Where are you from?' From that starting point we'd learn about each other's reasons for showing up, the projects they are involved in and the dreams they're chasing.
Powerful close: at the end of the second full day of speakers, Chris got back up onstage to thank everyone for coming, to spread his appreciation around to all of the (unpaid) speakers who volunteered their time to show up and share their experiences. Then he reminded us that he did say there would be a surprise at the end. At which point he discussed the economics of the event. Chris reminded us that last year's event lost about $30K. But this year, with twice as many attendees, and thanks to an anonymous donor who wanted to support the World Domination Summit, they had quite a bit of money left over. And, as he put it, it turned out to be about – on average – $100 for each attendee. So instead of keeping the money, they decided to give it back to the attendees. As we left, each one of us was handed an envelope with a $100 bill and a small card instructing us to 'start a project, surprise someone, or do something entirely different- it's up to you.'
Bottom line: the World Domination Summit is unlike any event I've ever attended. Its uncommon lack of convention created a huge demand: 5000 people were on the waiting list for tickets in January with only a few hundred available. Its pleasantly surprising lack of corporate sponsorship creates a welcoming community that says 'hey – we're here for you, not to make money. Please join our family of like-minded individuals. We want you to learn and enjoy!' It's near flawless execution made it extremely easy for attendees to willingly partake, meet people, soak up the atmosphere and information and engage.
I am so there in 2013.
Links:
Photo Credits Armosa Studio, used by Creative Commons permission