This is a guest post by Matthew Brennan.
Tradeshows can wield a terrific impact for businesses. The effect of waves of people coming to your tradeshow booth to find out more about what you do – and buying from you – can be great for the bottom line.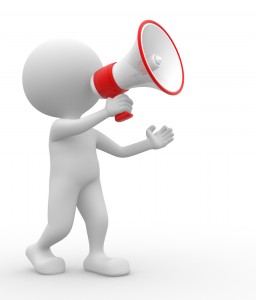 The thing is that trade shows can be crowded, and you need to work hard to set yourself apart from the competition. That can be accomplished in person with great banners, marketing materials, and branding. But there are things that you can also do with social media to generate a buzz that will keep people talking for a long time.
Use Twitter Hashtags to communicate – Twitter hashtags are a great way to make sure that the conversation keeps going. If people have a question after they leave your tradeshow booth, or simply want to talk about what they saw, they can leave a tweet with the tradeshow hashtag. That way they can be sure that the right people see what they're talking about.
Hashtags are simply the pound sign immediately before a word on a tweet. It makes them searchable in Twitter, so anyone attending the show, or looking to find out more information, can find it.
Use giveaways – Are you giving some promotional products away at your Nimlok tradeshow booth? You can use these items to spark a little interest online. Mentioning them on your Facebook page or in a tweet can motivate people to make an appearance, and see what you have to offer in person.
Why not let people know that you'll have a free _____________ to the first 100 people? If what you're giving away is truly valuable, it may just be the incentive to get them to come earlier, creating a demand.
Preview your exhibits at the show – Do you have something great planned for your tradeshow booth? Facebook and Twitter are the perfect place to give your customers and fans a little taste of what they'll be in for on the tradeshow floor.
What aspects of your industry or business are you highlighting? Is there something specific that you're looking to promote? This is the place to expand your reach and get in front of people. Letting people know what they can expect ahead of time can increase the crowd.
Use QR Codes – Your marketing doesn't have to be strictly from the online world to the trade show floor. You can use your tradeshow presence to drive people back to your website and social platforms and create more long term relationships. This can be achieved easily through the use of QR codes. You can put these simple codes on any of your marketing materials, and when your customers scan them, it will return them to a specific website of your choice.
You can send them to your Facebook page, if you want them to become a fan. You can send them to your blog if that's where you're publishing your best content. You can send them to a Pinterest page, if that's where some of the best pictures of your work reside. The possibilities are endless. This is a great way to keep people wanting more.
Use The Same Graphics And Logo – You worked hard to come up with the perfect banners, branding and message for your offline tradeshow presence. Don't throw that all away. Make sure that your Facebook and Twitter cover photos incorporate the same design. This will help keep a consistent look and feel between your offline business and your online presence.
---
About the author: Matthew Brennan is a marketing writer based in the Chicago area. He regularly writes about content marketing, blogging, and engaging with your audience. He has been published on ProBlogger, Soshable, and Business2Community. Connect with Matthew on his website, www.matthewlbrennan.com, LinkedIn, Twitter, Google+.