The following guest article was written by Chris Newkirk:
Tradeshows can be a huge expense for small business owners and although statistics show businesses can increase revenues and grow their customer base from events like these, many companies still struggle to attract attention and make trade shows worthwhile.
What are you doing wrong?
Networking involves a whole lot more than shaking hands and handing out business cards. If you view everyone as an opportunity and stop seeing them as people, chances are you're going to strike out. Consider how you like to be approached. People can sense they are being targeted for a sale, opportunity or referral from a mile off.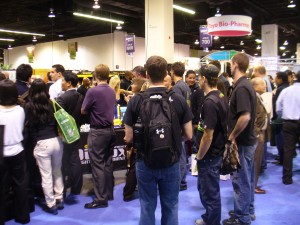 Treat people like people and look to make friends and connections. Don't approach people by asking them, 'what do you do.' Try asking questions that target them personally, can help spark a genuine conversation and can lead to a memorable discussion.
Ask open ended questions that are event specific and don't bombard people with materials, information or sales pitches. After you engage them in conversation, before they leave ask them if they'd like to be added to your contact sheet, or what information they'd like you to send them.
Encourage visitors to find you on Facebook and if you have access to an IPad give people the opportunity to check you out your Facebook and Twitter profile. You can generate buzz by picking a hashtag for the event. Use banners to promote your hashtag—encourage people to help you get your hashtag and the event trending on Twitter!
Are you making a memorable impression?
Everything from the time you arrive and leave, the things you talk about and the way you use your display and products all can work together to make you memorable—or leave you dead in the water.
You've heard it a million times, arrive early and leave late, it really does work. Approach the early birds and try to become people's 'first friend,' check back throughout the day and see how they're doing. These people will remember you and can lead to referrals.
While you're there make the most of your space. Do extensive preparation well in advance so you know what size the space you're provided with will be and what regulations you might have for light and sound. Update your display if it's old or if your banner stands are outdated or damaged. Consider spending more on displays that are less common and can draw attention to your booth. Even something as simple as a few laptops where visitors can browse products or the company blog will keep people at your booth longer and help draw a crowd.
A pretty booth won't set you apart from the crowd though, they tend to be a dime a dozen. Try something fresh.
If you haven't done it before, consider introducing the use of technology in your display. Informational kiosks are one way to remove clutter from your table and promote environmental ideals. IPads are a tool that you can use to display your entire product inventory or allow people to browse your company blog and interact on your social media sites. You can invite people to sign up for your newsletter or add their email if they'd like more information about your company, industry or product directly into a spreadsheet instead of using a paper sign-up.
The use of technology as allows you to engage with more people. If a larger group of people are visiting your space, you can invite some to use the IPad and kiosk while you engage directly with others giving you more time to form relationships without worrying about isolating other visitors.
Other ways to create an engaging space include:
-Enlarge your space using mirrors
-Use a projector to display video
-Take photos of your clients when they stop by and stream them on your projector or share them on social media throughout the event
-Suspend company products from the ceiling
-Incorporate lighting to illuminate your space
How are you following up after the show? Try reaching out through social media
If you have a company blog, writing a series of posts about the trade show and the people you met can be a great tool for networking. Share the post with people from the event and mentioned in the context via email and social media. Because they're included they will be more likely to share the post on their own networks.
Don't use follow-up emails to bombard people with a slew of sales information. Provide them with materials that demonstrate value like links to internet videos, industry information and special reports and educational white papers. Preface the email with things like, 'I thought of you when,' or 'I thought you might be interested.' The key is to keep in touch without coming across as pushy or simply trying to sell something.
Keep in mind some of your most valuable contacts may end up being people who have never been your customer, but instead end up sending a high volume of referral business to you.
The bottom line
Networking is about relationships. If you're attitude, body language or display is unwelcoming or un-engaging people have no incentive to talk with you or form a relationship with you. Your end goal shouldn't be to target everyone you meet to get their business. Instead your goal should be to form solid relationships so you can get business from everyone they know.
Author's bio: Chris Newkirk works in marketing and sales consultation. Chris attends a number of trade shows a year and enjoys learning what methods work for companies in various industries and enjoys sharing his networking tips.