A couple of weeks ago I posted a one-question survey which asked tradeshow marketers to identify their BIGGEST challenge when it came to creating a successful experience. To me, success means coming away form the show with more leads than last time, having a booth staff that's on top of their game, a booth that really shows your company's brand and identity and in general leaves you wanting to get back and do it again!
The survey went out via our tradeshow marketing list twice and was posted a handful of times on a few social media sites. In other words, it wasn't scientific but was instead mean to capture a snapshot in time of what people were thinking when they clicked through to the survey.
The question read like this:
What is your biggest challenge in using tradeshows to market successfully?
The question was designed to be as straightforward as possible without trying to steer anyone to a specific answer or topic. There were eight answers possible. These came from the general topics under which all tradeshow marketing elements would likely fall:
Determining your show objectives
Budgeting
Pre-show marketing and preparation
Creating an awesome booth that represents your company's brand and image
Booth staff training
Lead generation
Post-show follow up
Keeping track of everything from show to show
The survey was designed to let respondents to choose only one answer. I'm not sure if it would have been better or worse if respondents could have chosen more than one. My thought was it forced people to settle on just a single choice, no matter how many challenges they had in tradeshow marketing. Besides, the question asked respondents to tell us their 'biggest challenge,' not their two or three biggest challenges.
As responses to the survey came in, there were two answers that stood out as being the most challenging to the respondents: post-show follow up and creating an awesome booth. For a time it was neck and neck, but in the end, 'post show follow up' edged out 'creating an awesome booth that represents your company's brand and image' but not by much.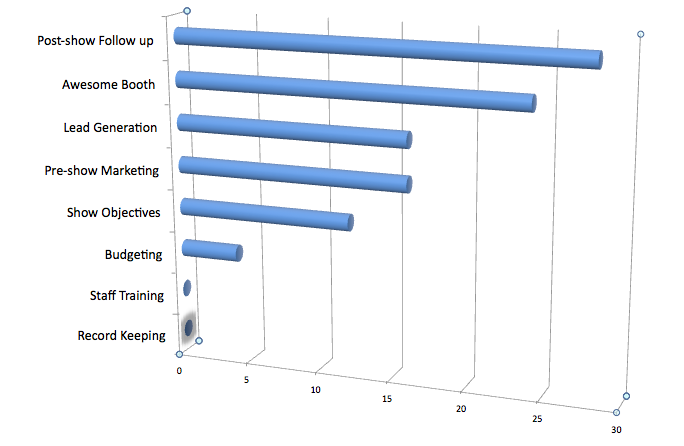 Bottom Line: the answers don't surprise me much. In my experience, some of the biggest challenges in tradeshow marketing that people recognize revolve around having a great booth, and taking care with all of those leads that come back to the office with you once the show is over. Booths can be expensive to create and maintain, and leads are often difficult to shepherd through a follow up process. About 80% of all tradeshow leads do NOT get followed up on, so that result is not surprising.
What was interesting to me is that booth staff training didn't get a single hit among the three dozen or so survey respondents. Staff training is often one of the most overlooked and neglected areas that can influence a company's tradeshow marketing success.
The fact that about 16% of respondents chose 'pre-show marketing' and 'lead generation' also indicates some challenging problems in identifying what is the best approach to driving traffic to your booth and, once they're there, to capture leads in an effective manner.
Tradeshow marketing isn't easy, nor is it cheap. If it was, everybody would be doing it and growing their businesses faster than they could keep up with. However, done right, it is one of the most effective ways of promoting new products and reaching new markets.