This is a guest post by Sarah Leung
Looking at your trade show strategy, you may already be doing a lot of things right: a perfectly designed booth, a well-trained staff, high foot traffic, and the ability to build great rapport with customers and prospects.
You may also be part of the shrinking majority of trade show exhibitors still writing orders on paper. If this is the case, it's likely that you're still not getting the most out of your trade shows.
For anyone who's ever attended a trade show, it quickly becomes apparent that they can be extremely hectic. In a sea of competition, both vendors and buyers are looking to maximize their time on the floor. Customers often have a long list of booths to visit, while exhibitors need to work quickly in order to see as many buyers as possible.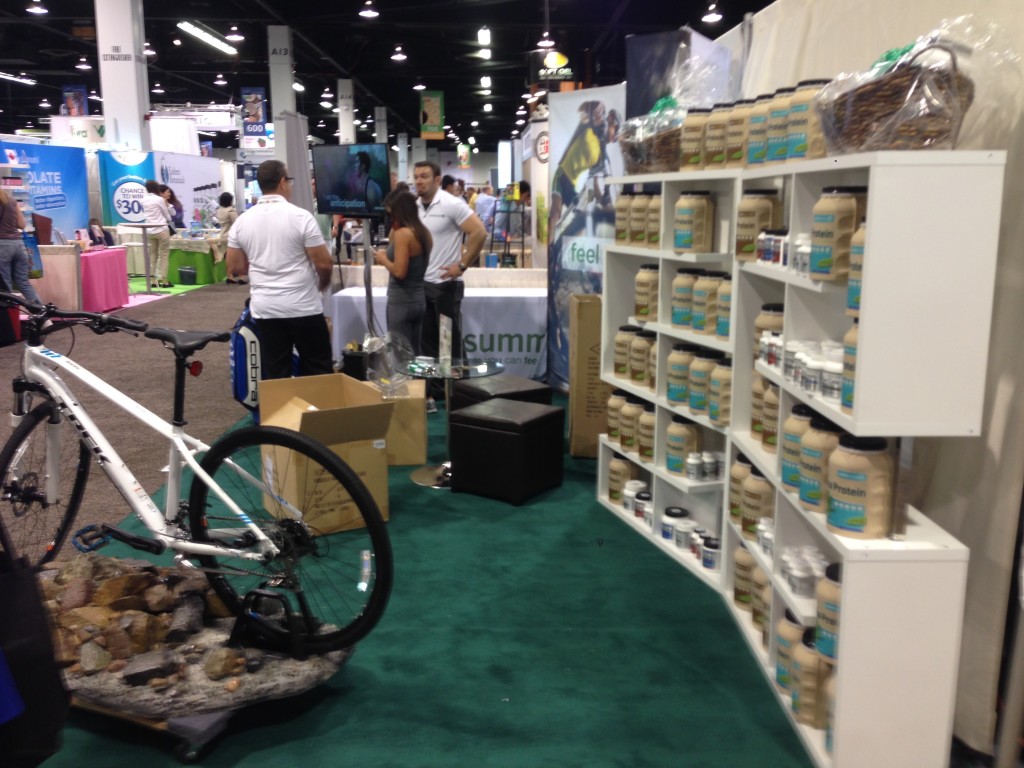 In this environment, the slow, tedious process of writing orders on paper can result in lost business due to queuing, distracted buyers, and smaller orders. More and more wholesale brands are realizing that this inefficiency is hurting business, and that the solution can be found in technology.
Sales order management software, for instance, allows brands to store product information, images, customer details, order history, and sales reports on a mobile device. Orders can be written with just a few taps and swipes, and sales reps see more customers on the trade show floor. Read on to learn how technology can expedite your customer interactions at trade shows and yield big results.
Building the Case For Technology At Trade Shows:
You Aren't Slowed Down by Product Catalogs and Samples
Any sales rep knows that flipping through a paper catalog and sifting through a pile of samples isn't the optimal way to sell. It's a time-consuming process, and it can be overwhelming for the buyer.
Technology can expedite this process in significant ways. Imagine that your entire catalog is available digitally on an iPad and organized in easy-to-navigate categories. You can browse the catalog with just a few swipes, zoom in on high-resolution product images, and add products to an order with a quick tap.
If the customer sees a physical product that they like in your display, you can scan the barcode to add it to the order. Think about how much faster (not to mention cooler) this experience will be for the customer.
You Have Existing Customer Information Readily Available
If you're writing a lot of business at trade shows with existing customers, having their information available on your digital order-writing interface is invaluable. No one likes to go through the tedium of answering questions like "What's your shipping address?" and "Can I get your phone number?" for the umpteenth time.
By having access to contact details, shipping and payment preferences, and order history during your face-to-face meeting, you can just pull up their record, check out their past orders and preferred products, and start writing the new order.
If you're meeting with a new customer or prospect, you can just type in the details, or snap a photo of their business card for later.
You Can Duplicate Past Orders in Seconds
For a customer that simply needs to place a reorder, you can use order management technology to just pull up the past order and duplicate it. You can use the saved time to share new items from your line, and hopefully increase that order size before it's processed.
You'll Have Accurate Inventory Information
Accurate, up-to-date inventory information is extremely valuable on the trade show floor. Customers may ask about inventory availability, and calling your back office to confirm quantities before placing an order can slow down the process.
Order management software can give reps access to inventory information in real time. Having a reality check on your inventory numbers can also allow you to sell more strategically. If you're low on inventory for certain items, you can notify the buyer (and avoid unpleasant surprises later) or simply steer them in a different direction.
You Can Automatically Apply Customer-Specific Discounts
Remembering customer specific pricing can be a major thorn in a sales rep's side. In the craziness of a busy show, having to remember those details can be a nightmare.
With sales order management software and mobile order writing, vendors can store those customer-specific discounts, so that there's no need to do anything more than choose products. The correct pricing will be automatically applied. If you're negotiating with customers in real time, one-time discounts can also be added.
Ultimately, what all of these features add up to is major time savings—for both you and your customers. It's time that can be used to have more high quality conversations with buyers, and to ultimately increase your return on investment at each and every show you attend.
Author Bio:
Sarah Leung is Content Marketing Specialist at Handshake, where she creates high-impact sales, marketing, and technology-related content for wholesale brands. When she's not writing, she's talking with sales reps, sales managers, and other industry professionals to source new topics of interest and further understand how Handshake has helped them increase sales and build their businesses.
---