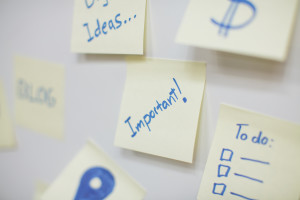 Put the pedal to the metal! Time to gear up for fall! Summer is winding down and we get to return to normal soon!
Whatever normal is.
And whatever it is, the chaos, hustle and bustle of a big tradeshow isn't anything near normal for most of us. Depending on the show, there could be a few thousand attendees to tens of thousands. Not only that, but you're onsite for several days. And chances are you traveled hundreds or maybe thousands of miles to get there.
So how do you prepare for such an event? I would wager there are two main areas to address: physically and mentally. If you want to go further, you can prepare emotionally or spiritually but I'll leave that to you.
Prepare for long days. Even if you're out late at corporate meetings, dinners or parties, do your best to get a good night's sleep. And those late nights come after a long day of mostly standing on your feet talking to booth visitors.
Eat well. It's so easy to fall prey to eating junk on the road. You grab a burger here, a soda there and before you know it you are running on inferior food. Eat the good stuff: salads, veggies, high protein meat, low carb foods. You know it's good for you and it'll keep your spirits up.
Keep to your routine as much as possible. I typically drink decaf coffee, but for a long time when heading out on the road, I would grab the 'real' deal – fully caffeinated – thinking I needed the extra boost. I soon found myself jittery from the extra boost, and threw me off, especially when giving a presentation later in the trip. Now I stick to the script: "Decaf!"
Realize that it's a marathon. But a short one. Yeah, kind of counter-intuitive. But if you understand that you'll be doing this all day long, for three or four days and then you can really crash, it's easier to keep the event in perspective.
Be open to good things happening. Every time I attend a show, something good happens. I think deep down I'm a skeptical optimist: I hope for good things, but prepare mentally for the worst. So when good stuff happens, like making a good connection, getting a good lead, killing it in a presentation, be grateful.
Understand that not-so-good things will also likely happen. Could be that a long-time client is going elsewhere for business, or part of your booth didn't show up, or somebody on your booth staff gets sick and you're undermanned. It all comes down to the old Boy Scout motto: Be Prepared.
And of course, remember to wear comfortable shoes. You'll be oh-so-glad you did.