This is a guest post by Valerie McSween.
Your company has invested substantial capital to purchase an exhibit, you've spent thousands of dollars to secure floor space at an upcoming tradeshow and your marketing team developed a thorough marketing campaign to make the show as successful as possible. You will also incur important travelling expenditures. You are looking forward to flying in with your team for the event.
You arrive at the show with excitement of meeting quality people over the next few days and discover that your booth's delivery missed the receiving deadline at the marshalling yard. Your floor space has a lovely carpet, which you also paid for, however your booth didn't make it on time and the show must go on…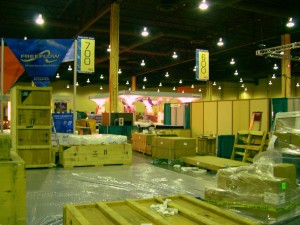 Tradeshow logistics plays a vital role in delivering a successful event. When efficiently orchestrated, it implies getting the booth and events material delivered to the tradeshow venue on time, and in perfect condition. We've listed a few general rules of thumb to help mitigate the risks involved in not delivering – or recovering – your exhibit material on time.
Time permitting, ship early. Most transportation providers won't charge storage to hold your goods near the tradeshow venue for a few days. You can also use the show's advance warehousing option. You will be billed higher handling fees by the show organizer yet this ensures you are on time for the move-in.
 Hire a transportation provider familiar with tradeshow logistics and make sure they can easily be reached 24 /7. Communicate the marshalling yard location and the check-in time you have been assigned. Be prepared to pay for waiting time and negotiate the hourly rate ahead of time with your transportation provider to avoid unpleasant surprises.
 Detail as much information as possible on the bill of lading: name of the show & exhibitor, booth number, on-site contact name, telephone number, number of pieces and weight.
 Label each shipping unit with all pertinent information, including the number of pieces (i.e. 1 of 5, 2 of 5, etc.). Insert your business card in every package to ensure any items that get separated from the shipment make it back to you after the dismantling.
 Wrap your crates/pallets with coloured stretch wrap to help your team locate the shipment more easily at the venue's receiving dock if need be.
 Stacking crates/pallets inside the delivery truck may reduce your shipping costs, however you will be billed additional handling fees to have the exhibit offloaded at the show (more or less 25% greater). Be sure to weigh the trade-offs between reduced shipping costs and resulting higher handling fees before deciding how to package and ship your material.
There are a few key issues you want to address before leaving the premises once the show concludes. To mitigate the risks of penalties and resulting costs for not recovering your shipment on time:
Confirm outbound shipping arrangements with your transportation provider and with the show's service desk. Confirm your assigned check-in time for the recovery of your exhibit material.
 Remove old labels and affix new ones with the outbound information to each package. Attach copies of the return bill of lading to your shipment. Indicate the name of your transportation provider and their 24/7 telephone number and contact name.
 Turn in the material handling form (MHA) and the bill of lading to the general service contractor of the show. The MHA authorizes the show contractor to transfer your shipment from the booth location to the designated carrier. Both forms need to be turned in to avoid your shipment being "forced".
 Make sure your carrier's name is clearly specified in the designated area on the MHA.
 Ensure that all payment arrangements have been made with the show organizer. Your shipment may otherwise not be released to your carrier and consequently ''forced".
When a booth remains on the show floor after the scheduled move out, it gets "forced" out. This implies that your exhibit will ship from the tradeshow venue via the show's designated carrier. Unless that carrier happens to be the one you booked for the move-out, you will have exorbitant fees to pay to recover your shipment.
Understanding the importance that transportation plays in tradeshow logistics will help you make the right choice when hiring a transportation provider for your next tradeshow exhibit. Your day-to-day carrier may offer competitive pricing for non-time-sensitive orders, however they may lack knowledge and experience with tradeshow logistics. To help you reach your tradeshow objectives, choose a carrier who will give you the peace of mind and let you focus on the reason you are exhibiting at the show to begin with.
Whichever transportation provider you hire to carry your exhibit material, request references and reach out to clients who swear by them when it comes to events and tradeshow logistics.
Valerie McSween, CCLP is the Vice President, Eastern Region at Mactrans Logistics Inc. She is also the Vice Chair Finance for the CITT Board of Directors. Over the last 20 years, Valerie has worked with both asset based and non-asset based transportation providers in various strategic business development functions. She holds her CCLP designation as well as an Executive MBA in Logistics.