David Spark's new book, "Three Feet From Seven Figures," takes a look at the interaction between show visitors and booth staff, and takes the position that it's the most critical element of successful tradeshow marketing.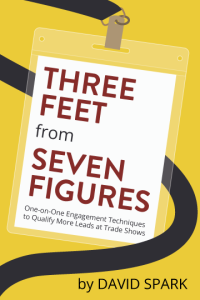 Hard to argue with that view.
Going through his free sample at Three Feet Book.com, it's easy to see why he feels that way. You also get a quick glance at his potential solutions. For instance, David outlines a 7-step process to create the most positive qualified engagements:
Break the Ice – find a point to begin engagement
Create a Rapport – find a business reason to keep engaging
Qualify the Person Quickly – is this the right person for your business?
Tell Your Story – Qualified or not, everyone should know your story and be able to retell it
Go grab the free sample for 5, 6 and 7…you'll be glad you did!
As he puts it, "we put too much reliance on everything but the people." Yes, you can have a great booth, but people don't stop to talk to a great booth. It's just a framework for the people inhabiting the booth and representing the company. Don't fool yourself into thinking that just because all of the booth elements are terrific that you're going to have a successful show.
Good luck on the book, David!
David runs Spark Media Solutions, a brand journalism firm in the San Francisco area.