To really stick in someone's mind, you must be meaningful to him or her.
From "Meaningful: The Story of Ideas that Fly" by Bernadette Jiwa:
"It's easy to believe that 'meaningful' applies only to the businesses in what some people might call the 'do-good' sector of non-profits, sustainability and so on. But every one of us, from a software company to a cab driver, is in the meaning business. Without meaning, products and services are just commodities and nobody wants to be in the commodities business."
So how does that apply to the tradeshow floor? What does it take to create enough meaning for a visitor that will stay with them long after the show is over?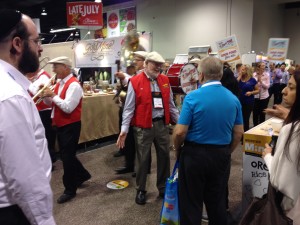 It boils down to the people. Creating the product is comparatively easy. Getting attention is not all that hard. But sticking in someone's mind means that the people you employ must understand what it is that is important to the visitors, and what affects them: what about your product or service means something to them?
It's not an easy answer. And if you don't know the moment you walk onto a tradeshow floor, you probably haven't spent any time discussing it with your team prior to the show.
However, a tradeshow is a good opportunity to explore that meaning with your visitors. Think of it: there are thousands of visitors to the show. When they stop at your booth, take time to ask questions. By looking a customer in the eye, you have an opportunity that isn't available when you're just talking on the phone or asking people to fill out an online survey.
A tradeshow is an intimate encounter in the sense that you are talking to someone face to face. Yes, there are hundreds of conversations over the course of a three or four day show. As Bernadette put it in the book:
"Bricks-and-mortar businesses have the advantage of intimacy, online businesses, which must collect a ton of (often valuable) data to learn more about their customers and determine how to give them what they want….but the waiter sees the wrinkle nose, the barista remembers the regular and the doctor hears the stories that inputs from the keyboard can never fully communicate."
Use that face-to-face opportunity to talk with people and really understand what they like and don't like about your products and services. And make it formal to the extent that when you're asking questions, you're writing the answers down. Share that data with others in the company.
Ultimately, your job is to make people happy. If your clients find true meaning in the services and products you provide – enough to make them happy with your company – you've done your job.