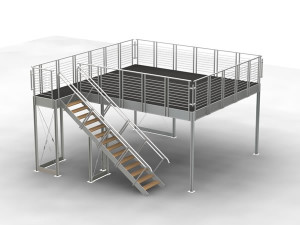 I've been seeing them more frequently at the big shows: double deck booths that create a private meeting space above the crowd. But is it something you should consider? Is it worth it?
Let's take a look. First, if you are considering a double deck rental for your island space, keep in mind you'll probably need at least a 20×20 island, if not 20×30 or larger. Due to the physical engineering and space of the stairs and the height needed, the stairs themselves will take up about 16′. In a 20×20 booth, you can put a smaller upper deck, but it still dominates the space. Perhaps that's okay – only you can decide that.
But the double deck also comes with other considerations. Do you rent or buy? A purchase commits you to the double deck for at least a few years. Now, if you've determined that a double deck is a useful part of the booth perhaps purchasing the deck is the thing to do. If you rent, you're only committed to a single show.
Another question is: do the upper meeting areas get used enough to warrant the additional cost? If it's a busy show with tens of thousands of visitors and a few thousand exhibitors, there's probably enough traffic to warrant the cost. If you schedule enough meetings in your pre-show planning, you might be able to justify it. But if you end up with an upper area that only gets used a few times during the show, you'll probably regret the expense.
Beyond the cost of purchasing or renting the double deck, there's the additional cost of setting it up. You'll often need a supervisor from the double deck rental company to be a part of the I&D to ensure it is set up properly. There are legal engineering and fire safety requirements, along with insurance and other regulatory requirements which can vary from city to city, so make sure you work with a company that is familiar with the legal requirements.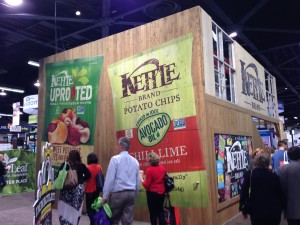 Exhibiting halls in different cities can have differing height requirements. There are weight capacity requirements and depending on total space for meetings, the number of stairways (tied to upper capacity). Typically a structure must be engineered to withstand 100 to 125 pounds per square foot.
In some cities, such as areas of California and the Northwest, the structures must meet earthquake codes as well.
There are certainly other city and hall requirements, but your exhibit provider should be able to ensure that your double deck booth, whether a rental or a purchase, can meet those requirements whatever they are.
Whatever your decision, a double deck is a big step if you've never done it before, and it warrants a thorough consideration of all of the ramifications. Take a longer look at double decks here.
---