This is a guest post by Christine Ton of Stratacache.
I had no idea what to expect when I walked into my first-ever tradeshow. I imagined it to be like one of those state fairs where you would walk through different tents, or in this case, a bunch of booths. There were people everywhere, and the experience was incredible for a first time attendee. From the flashing signs to the abstract booth shapes and sizes—every stand was so unique and told a different story.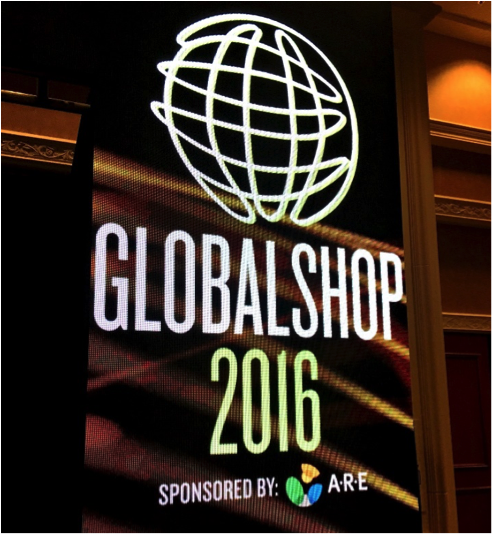 As a first time tradeshow attendee, I decided to make a pros and cons list while I was at GlobalShop 2016 to further breakdown my experience.
Pros:
Great Place to Network-There are so many companies that are at the show and it's a good time to hand out your business card to the places you are most interested in. Strike up a conversation and see what opportunities lie ahead to strike a deal.
Show Off the Latest and Greatest-Tradeshows are a great place to test the waters on new products and services that your company is getting ready to launch. Get feedback on some of these items and take back some information that could make it even better for the next time. See and hear first-hand on how people react to your business.
A More Focused Industry– There are a lot of tradeshows that revolve around specific industries. When you are at a tradeshow with people in your market, you are reaching an audience that is relevant and important to your business.
The Lead Scanners Are Amazing-Collecting leads is extremely valuable, especially if you are at a huge show. It's an easy way to collect information in order to follow up with your potential clients. Some scanners allow you to take notes too, which is incredibly helpful if you are meeting a lot of people each day.
Cons:
It's Expensive- From electricity/internet, to the booth rental itself, everything costs money.   It's amazing how quickly it adds up, and I don't mean by a few hundred dollars, I mean by thousands and thousands of dollars.
Risk Factor– You have no guarantee at getting your money back from a show—which is why it is extremely important to be prepared. You can spend thousands of dollars on your booth, but it means nothing if your audience isn't engaged or interested in your business products/services.
A Lot of Boxes to Check-Setting up for a tradeshow isn't easy. You don't just put down your name and show up to your ready-made booth. It takes work and a lot of hands to get everything in order. Get your company organized before show festivities. You don't want to end up at your booth to find out you forgot to ship the main attraction back home.
Overall, my first tradeshow experience was wonderful—but it wouldn't have been without the organization and help from the entire team putting the show together. It's a jungle out there, so get prepared and be ready to answer any questions that may come your way. The opportunities are endless if you know how to work the room.
---
STRATACACHE is a provider of intelligent digital signage, digital merchandising, mobile enablement and rich media solutions that help influence customers at the point-of-decision, leading to new sales opportunities, with over 1.3 million software activations globally.
---