Competition on the tradeshow floor is fierce, and it's not going to get any easier. You might say it's more competitive than ever! Your fellow exhibitors are bringing more people to their booth, giving away more samples, doing more in-booth and doing better in the things you don't see at the booth, such as pre-show marketing, social media and follow-up.
What are you doing to step up your tradeshow game?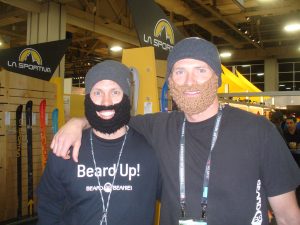 Here are 6 ways to step up your tradeshow game to at least keep pace with fellow exhibitors.
Bring Your "A" Game. You can characterize this a hundred ways, but it really means to step up your performance, do better than the last time, stay disciplined and focused so that almost nothing misses your gaze.
Have a better sample for giveaway. This could mean anything from working with your promotional products associate to brainstorm a different giveaway to having a premium gift for those that respond to a pre-show marketing mailer.
Catch eyeballs! Every booth is vying for eyeballs. What message is your exhibit saying? Whether it's a 10×10 booth or a giant island, it still should communicate a clear and concise message and do it in a manner that catches eyeballs. Sometimes that's graphics, sometimes it's a compelling and bold statement or question.
Give visitors something to do. There are discussions to be had regarding the differences between flashy colorful booths or having something interactive. Both have their valid points. But if you can create an interactive booth and give a visitor something to do that's engaging, creative and keeps them around for at least five minutes, you'll definitely be stepping up your tradeshow game beyond many of your competitors.
Pay attention to visitors. It's too easy to slip into 'silent' mode by pulling out your phone to check email, ready Facebook or text someone when crowds are light. But it's at that moment when someone may come by, see that you're engaged and keep walking.
Put on a smile. The only thing more welcoming to someone than a smile is to greet them with their name. If you don't know their name, at the very least give them a smile!
Want to know all 14 steps to take your tradeshow marketing to the next level? Download a free copy of my book here (opt-in to newsletter).