First things first: I'm not an expert on virtual reality at tradeshows, known as VR! But there's a lot of information out there which I've absorbed along with some observations on using technology in a tradeshow, so I thought it would be fun to explore the topic from the perspective of using VR at tradeshows as an attractor.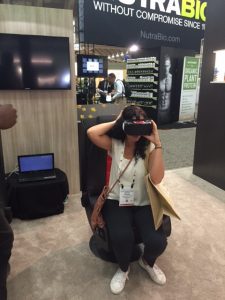 In a recent conversation with Jennifer Liu with Hyland's Homeopathic, a long time client and an attendee at Natural Products Expo East, she mentioned that there were a handful of exhibitors there using VR in their booth.
My first question when it comes to using VR, or any video in a tradeshow is this: what is your content? After all, content is everything. Without the right content, you might as well forget it.
Apparently the content at one of the booths involved spacious outdoors and action video: glaciers, mountains, beaches, and so forth. The idea was for the viewer to experience the full spectrum of virtual reality, regardless of the relationship that content had to the exhibitor's product or service.
If you're going to invite people into an engaging and intimate experience using VR in your booth, it would seem to me that you'd want to make some sort of connection between the experience and your product or service. If you're a company that provides outdoor climbing or hiking gear, for instance, having 360 VR video of hiking or climbing would make sense. But if you produce chocolate bars or headphones, you'd have to ask yourself how that VR experience of hiking or climbing would relate. And while you might be able to find at least a tenuous connection, the stronger the connection, the better.
Starting Up with VR
In Foundry 45's blog, there's a discussion of the first step of creating content for VR. Record a bunch of video with the right cameras! This post discusses how to approach using VR for a tradeshow. Without spending a lot of time quoting the article, their advice is sound: do a dry run before the show, be prepared to help newbies, create a safe VR zone, use good sanitation techniques for the headsets, and so on.
Headsets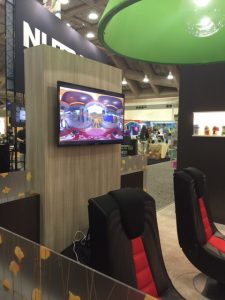 When it comes to how people experience VR, the headset is one item you'll need to decide on. Wareable has a recent rundown of several sets, including Oculus Rift, Playstation VR, HTC Vive, Gear VR and others. These range in price from about $100 to nearly a thousand bucks. And of course there's Google Cardboard for just $16.99. And where do you have visitors sit? You might want to give them comfy auto-race car type seats which hold them comfortably and safely while they zoom around a virtual world. You might check out the Roto Interactive Virtual Reality Chair. No doubt it would give you a line of people waiting to get into your booth!
Whether you choose to incorporate VR into your exhibit now or not – or just wait and see, it's safe to say more and more exhibitors will step into the VR world as time goes by. If you do consider it, make sure it's a good fit for your product or service, and make sure you have content that is a good match to keep visitors engaged and learn about what your company can do for them.
UPDATE: If you'd like to find out more about using Virtual Reality in a tradeshow setting, be sure to watch our recent webinar with Dave Beck of Foundry45!
---
Want a free digital copy of my "Tradeshow Success" book? Click here.