If you're tasked with creating blog content, you know the challenge you're facing. A blog has a never-ending appetite for content, whether it's the written word, audio, photos or video.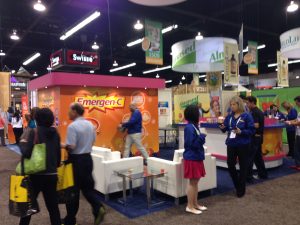 Guess what? Your next tradeshow appearance can give you weeks if not months worth of material!
To do so, though, you're got to be prepared. If you're involved in the blog in any way, shape or form, you likely already have your ears perked up for content ideas. But at a tradeshow it's easy to get caught up in the chaos and forget to actually make any notes until the show is over. So the first thing to do is to keep a notepad handy. Or whatever device you use to make notes. Could be your smartphone: just open up the audio recorder, make a few comments, put a label and that's it.
You can get blog post ideas from prospects, visitors and your competition. Ask questions about problems they're looking to solve and challenges they're facing. Ask what specific industry they're in and jot it down. Ask what the hot items are in your visitor's world. Note what your competition is promoting and what they're leaving behind that surprises you. Talk to industry leaders if you can find them, ask about products and services that their customers are asking about, and ask about what problems they also face in serving their clients.
Take photos and videos. If you have a client in your booth, ask them to sit down for a 60-second testimonial and ask what they like about your product. Take photos of booth staffers, managers and visitors (make sure you get names of visitors), and post them on your blog and on social media.
Ask your staffers what they learned – what their takeaways were at the end of the show. Ask what worked, what didn't.
A tradeshow has oodles of ideas for content. All you have to do it be aware, make notes, record bits and pieces with your camera and write it up back at the hotel as well as when you get back to the office. You'll have content ideas for weeks or months to come!