How to determine if your tradeshow exhibit investment is worth it.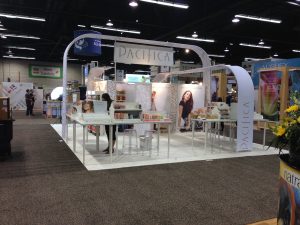 Tradeshow exhibits can be expensive. So how do you know if it's a good investment? Here are seven ways that will help you determine if the money invested in the design and fabrication of a new tradeshow exhibit is well spent.
If it allows your booth staff to function better. A new tradeshow exhibit will look great, but if it helps your team function better at a tradeshow, it's worth the money.
If it increases your brand awareness at the show. One of the most important reasons to be at a tradeshow is because it can help reach new markets. If your tradeshow booth (bigger, prettier, more eye-catching) is better at attracting attention than your previous booth, it's worth it.
If you find it easier to generate more leads. A recent client that upgraded their tradeshow booth to a 20×20 island exhibit saw leads increase three-fold as a result. Definitely worth it.
If it gives you more space for presentations. Even if your hired professional presenter says she can do a great presentation in a 10×10 (and they probably can), if you can give them more space, it'll allow more people to see those presentations and be engaged with your products or services.
If it shows your market that you're the dominate company in the niche. One client of ours likes their big booth because they feel it gives them bragging rights as the 'big dog' in their market. Psychological warfare, indeed!
If it leads to increased profitability. Does it positively impact the bottom line? Then it's a good investment.
If the new exhibit boosts your staff's morale. Perhaps this isn't a cut-and-dried way to determine if the investment is worth it, but I've seen first hand many times the impact a new tradeshow exhibit has on a staff's attitude. It shows them that management believes in the company's tradeshow efforts.
Can you come up with any other reasons why a brand new tradeshow exhibit is worth the investment? I'd love to hear what you think. Leave a comment below.
---
Need a quote on a new tradeshow booth project? Click here for a no strings-attached quote request form.