Or: How to Build Anticipation for Your Tradeshow Appearance
When I was just a mere 22 years old, the very first Star Wars movie came out. This was back when we would watch it, go buy another ticket and watch it again. And again. Star Wars, or as it's now called, Episode 4: A New Hope, was a unique entry into movie-making. George Lucas says he was inspired by the Saturday afternoon movies he used to watch as a kid. He wanted to create a movie that was a rollicking, fun adventure for all ages, as well as a saga that tapped various historical points for inspiration.
Bottom Line: Star Wars was big, and each impending release caused more anticipation.
Which brings us to Rogue One. It's the latest movie in the Star Wars canon, and is set to be released before Christmas this year.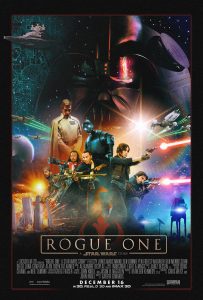 The anticipation is YUUUGE. My 16-year old son, who was introduced to the movies by his old man before he was 7 or 8, knows more about the Star Wars universe than I'll ever know. And every time there is a new tidbit about the new Rogue One, such as a new trailer or story bit, he'll let me know in no uncertain terms that he can't wait until the movie comes out.
Now that's product anticipation!
How can you build anticipation into your tradeshow appearance? Well, certainly, it's hard to match the pent-up anticipation of Rogue One, but you can build anticipation.
First, have something that will whet people's appetites. Maybe it's a new product or a new service that you haven't offered before. Or maybe you have grown to the point where you have a brand new tradeshow exhibit that will knock peoples' eyes out.
Next, let people know about it. Send out press releases, talk to media outlets about what you're unveiling at the big show, tweet about it, tease your audience with glimpses online. Make a big deal out of it: send out an email to your customer and potential client list. If you are unveiling a new product or perhaps a new and bigger booth, include a photo that only partially reveals the entire scope of the project. Build a contest around your product, service or even booth.
Finally, advertise at the show. Figure out how you might incorporate some methods at the show of building even more anticipation by using guerrilla marketing, putting footprints from the front door to your booth (with show organizers help, of course), buying ads around the show floor entrance, and so on.
No, you'll probably never quite develop the full-blooded anticipation of a 16-year old Star Wars geek awaiting Rogue One, but with some work and planning, you can build up a healthy anticipation for your next tradeshow appearance.