You can benefit from tradeshows without exhibiting – it just takes a little planning.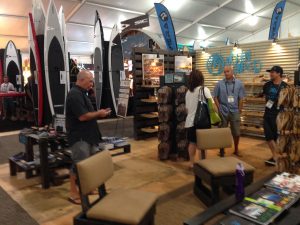 For example, the simple fact of tradeshows means that there is an assemblage of buyers, managers, clients and prospects all at the same time. Consider scheduling an informal meeting with several of them. Perhaps it can be a dinner or an after-hours party or gathering. One show I attend regularly throws a party for all regional folks to see the best of the region. Several exhibitors are organized to gather their products for a state-specific gathering to show off the best-in-state (make sure that your activities are approved and sanctioned by the show and don't break show rules).
Work with another company. Is there a larger exhibitor that you have worked with in the past? Perhaps it's a good fit to co-exhibit with them and show off your goods at their booth. It might be marketing partners, customers, vendors or others that are complementary. For instance, if your co-exhibitor makes bread, that might be a good opportunity to show off your toast toppings.
Speak at a show. Larger shows in particular have ongoing training and seminar programs. Show off your expertise by offering to give a presentation or join a panel. It's not really an opportunity to promote products (it's frowned on, obviously), but if you can show your expertise and knowledge it'll improve your standing in the industry, which can attract prospects. Work with noncompeting speakers: meet and greet and see how you might assist them in future projects.
Research products and competitors. Some shows are worth attending just to see if it's a good fit for you in the future. While there, you can find what companies have the biggest footprint, find out what your competitors are up to (and maybe uncover some new ones), and get up close and personal with new products and services that will either compete with your offerings or complement them.
Other ideas that might let you benefit from tradeshows without exhibiting include purchasing a mailing list of exhibitors and/or attendees from show organizers. Consider purchasing ad space in the event newsletter, website or app.