It may be obvious, but tradeshows bring buyers to your booth. Often, as exhibitors, we're so focused on presenting a cohesive message, making sure our staffers are on top of things, keeping the booth clean, greeting visitors and answering questions that when someone is ready to buy we miss a beat!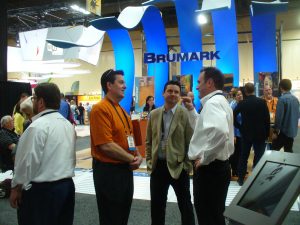 In some tradeshows you're looking for distributors, in some you're looking for customers, in some you're looking to solidify and strengthen relationships with existing customers, distributors and clients. But at the bottom line, you're at a tradeshow to connect with more buyers. More people who will say YES and open their wallet to your products and services.
By keeping this YES top of mind during the show, your staffers will be more prepared when the question does arise. Certainly not everyone in your booth is a buyer, but buying decisions and referrals are made at tradeshows. THAT'S WHY THE ATTENDEES ARE THERE: TRADESHOWS BRING BUYERS. They're there to check out new products, new services, new releases, new iterations of current products and so on. If they're at the show, there's a real chance they may either eventually BUY from you or know someone who will.
Exhibit Surveys Inc's Trade Show Trends Report from a couple of years ago shows that 49% of tradeshow attendees come to a show with the intent to purchase. Yes, that's why they're there – to BUY, and hopefully from you.
Are you doing all you can to facilitate the buying activity?
---