Hey, it's time to do another wrap up of tradeshow exhibit design and promotion ideas. Let's take a swing around the internet, shall we?
First, we stop at FitSmallBusiness.com for a look at over two dozen design and promotion ideas. One idea I really like is to walk the show floor prior to the doors opening to the public and introducing yourself and inviting other exhibitors to come by your booth for a freebie.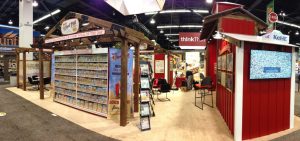 From the Tradeshow Advisor comes a look at how to use all the display elements at your disposal to attract eyeballs. Using lighting, motion, sound and smell, you can get attendees senses involved.
Pinnacle Displays offers the 10 commandments for designing effective tradeshow graphics.
Northwest Creative Imaging posted a great infographic that details the best practices for tradeshow booth design. It's a good one.
Our old friends at Handshake.com offer several booth design ideas to help you stand out at tradeshows.
And finally, let's swing by Envision Creative Group for 5 Elements of an Awesome Booth Design.
All in all, some good company to keep and excellent ideas to ponder and incorporate!