"Does your tradeshow exhibit evoke emotion in the mind of a visitor?" might be a funny question. The better question might be: "HOW and WHAT emotion does your tradeshow exhibit bring out in your visitors' hearts and minds?" But by asking it, you're pulling on the string of branding, high-impact motivators such as confidence, sense of well-being, protecting the environment, being who you want to be and a litany of other emotions that pull in one direction or another.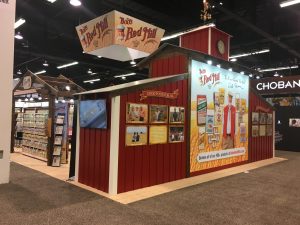 Let's use one of our clients at TradeshowGuy Exhibits, Bob's Red Mill, as an example. Their foods are mean to inspire good eating with high-quality grains, oats, cereals, mixes and more. Good eating equals longer life and better health. Better health equals a positive feeling. Hence, just seeing the Bob's Red Mill exhibit can evoke an emotion that gives people familiar with the brand a sense of well-being and comfort. All without them even thinking about it. As long as the visitor has a familiarity with the brand and products, their brain will make a quick connection with a positive result.
Let's try another brand, say, United Airlines. With the recent debacle of having a booked passenger dragged off the airplane with smartphone video cameras in action that spread quickly throughout social media and mainstream news outlets, many visitors to a tradeshow with a United Airlines exhibit might have a different feeling today than they did just a month prior.
According to Alan Zorfas and Daniel Leemon, writing in the Harvard Business Review, "On a lifetime value basis, emotionally connected customers are more than twice as valuable as highly satisfied customers." Gaining that emotional connection pays off in numerous ways as they buy more, visit you online or in your store more, are less concerned about price in favor of quality, and listen more to what you're saying, whether on a TV or radio ad, in a magazine, or in a weekly newsletter.
When it comes to evoking that positive emotion when visitors at a tradeshow come upon your booth, your branding and costumer experience already has to be in place, at least to a certain degree. A visitor that's familiar with your brand and has a positive feeling upon seeing your exhibit has internalized that – but beyond that, she recognizes the key elements of the brand successfully executed in the design and fabrication, down to the small details.
A visitor that's not familiar with your brand will still experience a gut feeling upon seeing your booth. The accuracy of that evocation has everything to do with how skillfully your 3D exhibit designer and your graphic designer have understood and communicated the elements of your brand. Once they inhale that look, as it were, they'll make a decision on whether to more closely check out your products or services. If all is done right, your visitor will get an accurate emotion of the brand that you're hoping to disseminate.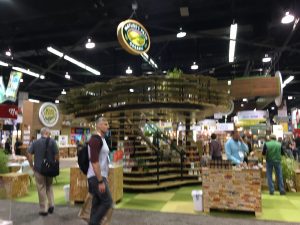 This is all not precise, of course. You can't just plug in a color or texture or design or graphic and provoke a predictable reaction. Even ugly and unplanned exhibits can still have a successful tradeshow experience, which may be due to other factors, such as the competition, the specific product, the enthusiasm and charisma of a particular booth staffer or some other unknown element.
But the better your exhibit reflects your true brand, the more powerful it becomes in the heart and soul of your visitor. And they'll take that home with them.