Well, actually, you can probably narrow it down to the one most important reason to exhibit at a tradeshow: to build your business! To grow! To see your bottom line increase!
Sure, but in a sense, pretty much any good reason you can think of to exhibit has a chance to fall into the top three of any list, depending on your company's overall goals. And remember that your specific goals can, and probably will, change from show to show.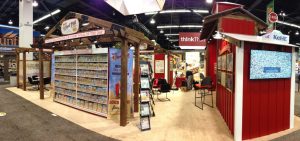 So let's start with reason Number One. To generate leads. Not just any leads, but qualified leads. The definition can vary from business to business, but it boils down to this: a prospect who has shown interest to buy, is qualified to buy, and is planning on making a decision in the near future to purchase whatever it is you're selling. So let's be clear on what a lead is NOT. A lead is not a business card that lands in a fishbowl where you're giving away a par if Bluetooth speakers. A lead is NOT scanning a badge of virtually anyone who passes through. No, a lead is ONLY someone who has passed the tests of being interested, having the ability to pay your price and are in the process of making a decision soon. And by exhibiting at the right shows, your company is reaching markets and new leads that would otherwise be difficult and expensive to reach.
The second most important reason to exhibit at a tradeshow is to show off your brand. A damn fine exhibit can do that in the most eloquent and engaging way. But your exhibit is not the only thing that represents your brand, although it's critical. First impressions are imprinted on visitors' minds, and they carry that impression with them for a long time. But beyond that, the impression your people leave is as important than your exhibit, and probably more so.  Is your booth staff friendly, prepared and trained to handle the onslaught of visitors and the chaos of a tradeshow floor?
The third most important reason to exhibit at tradeshows? I hinted at it in reason number one: the expansion of your market reach. Bob Moore, the iconic Bob of Bob's Red Mill, has stated in more than one interview that their consistent exhibiting at tradeshows gives them access to markets they could not otherwise reach. Period. When you exhibit at tradeshows, be prepared to interact with potential clients that are in a position to either purchase your products or services, or help you bring them to new audiences that will help grow your sales.
There are other reasons to exhibit at tradeshows, but by focusing on these three items, all other reasons will almost take care of themselves.
---
Check our Exhibit Design Search tool now.