I'm the last guy to claim to be a trend-setter, but I do try to keep at least one half-open eye on tradeshow exhibiting trends. So I took a look at some of the things that are showing up on various 2017 tradeshow exhibit trends lists and added in a couple of things I've seen at shows this year. Yes, we're into the second half of the year – so how did these trend article from earlier in the year predict what's happening on the ground?
Virtual Reality: I'm still unconvinced this will really take off in the tradeshow world. The challenges are many: crowded floors, busy visitors, cost of creating custom content that not only engages but impresses and leaves people glad they spent the time. But it looks like the technology is there and will do nothing but improve. The few times I've seen it at shows, people did not seem all that interested, and several VR headsets sat unused for long periods of time. When they were used, visitors commented that it was nice, but no one I spoke with raved about the experience. Again, it comes down to getting the best and most engaging content possible.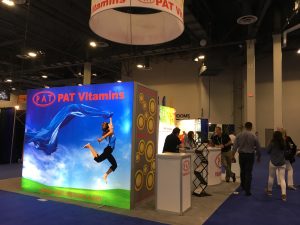 According to this great article from Exhibitor Magazine, some other trends for the year include Artificial Intelligence (think Siri and Alexa), new ways of visitor engagement (digital games, for example), and Tradeshow Campaign Themes.
From Freeman comes an article that brings up sustainable materials as still trending (look for LED backlit smart fabric walls), immersive hubs from show organizers (activities, video content and more), and education that is customized to the level of expertise in the audience groups. There's also a mention of one way that might be a good workaround on the prohibitive cost of shipping large engines and equipment around the world: 3D-printing that can replicate the machinery or equipment to a T.
Absolute Exhibits from Tustin, CA, offers a handful of tech trends for tradeshow exhibits this year, including digital lounges for recharging (figuratively and literally), brighter and more attractive signage, push notifications through the show's mobile app, games and contests, and interactive video walls and touch screens.
Exhibit Concepts offers up trends including finding new ways to engage face-to-face, the wide incorporation of technology into every corner of a tradeshow exhibit (Bluetooth beacons that integrate with a client's products), and the increasing use of custom exhibit rentals to keep costs down.
From my perspective, I see the growing use of backlit fabric graphics taking over much of the tradeshow floor. The cost is coming down (still), and the quality of the fabric printing is nearly indistinguishable from high-quality paper printing, as long as you're using the latest generation of printers (be sure to ask!)
Another item I see frequently is large-format, simple graphics that do a terrific job of grabbing eyeballs, either through the bold simple easy-to-read text, or bold images combined with sparse text.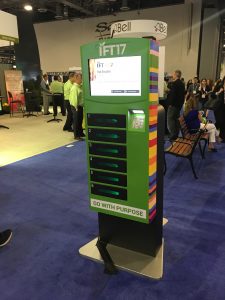 When it comes to charging stations, I recently saw something a little different: lockable stations where you can plug in and leave your device. When you return just enter your code (that you came up with earlier), and retrieve the device. This charging unit was NOT in an exhibitor booth, but was instead provided by the show.
The last couple of shows I attended (Expo West in March and IFT in June) both had great, easy-to-use show apps. Quick to download, easy to navigate, and when you set up push notifications you really don't miss a thing. Kudos to the various app designers that make them so friendly and good-looking.
These topics are echoed in many other posts throughout the tradeshow world, and now that we're on the downward slide into 2018, it'll be interesting to see what comes to the fore next year that everyone wants to be a part of.