Recently I was speaking with tradeshow expert Marlys Arnold of Image Specialist, and she made a comment that struck me: Are you stuck in a checklist?
3D exhibit design is part art, part craft, and part skill. I don't claim to be a design expert, but I've seen thousands of exhibit booths over the years, and only a very few have really stood out. Why did they stand out? Because – to me – if you are familiar with the company and the brand, and you're standing in front of the booth for the first time, you say to yourself, "They freaking nailed it with that design!" The design of the exhibit adheres so close to the brand's identity that you can't help but notice.
Why doesn't this happen more often? Let's go back to the checklist. Brand managers and designers can get into a trap of making sure that all the items needed for proper booth function are included – and stop there:
Storage? Check. Product Display? Check. Big backlit graphic? Check. Nice-looking greeting counter? Check. You see how this goes.
Don't get me wrong. Checklists are important, and they're a good place to start. But when the challenge is to create an exhibit that screams your brand does using the checklist – and only the checklist – really get you there?
Let's say the branding guidelines advise the designer to use branding standards and follow natural and sustainable practices. Perhaps it adds that it should be made from sustainable materials. And then there's a call-out for innovative ways to showcase products to draw attention and traffic.
It isn't long before you get lost in corporate gibberish and bland buzzwords that don't really communicate well. It's not really the brand manager's fault: this is how they think and how they've been trained.
So, what's the answer?
Frankly, I don't think the answer is easy. And it's not that hard, either.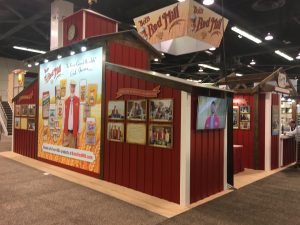 Some companies are better at communicating their needs than others. Some designers are better at sussing out what the company really wants than others. If you, as a tradeshow brand manager, can succinctly put into words what you're looking for and avoid the corporate buzzwords and gibberish, you're half the way there. If you pick a designer that has the skill to intuitively take those descriptions and create a 3D design that screams "your brand!" that's the other half.
See: easy, right?
In projects I've been involved in that have fully succeeded in creating a 3D version of the brand, the power of description has been palpable. Usually, a sketch, even a napkin sketch, has been provided because the brand manager has taken time to visualize the exhibit. They don't usually have the skill to bring it fully to life, but they can often effectively demonstrate what they're looking for. Perhaps it's taking the specific curves of a brand's graphic look and incorporating that into the curves of a greeting counter. Or it might mean taking the iconic mill structure of a brand and making that the central piece of an exhibit.
Whatever your brand, I would tell you this – and this is coming from a non-designer: determine what visual elements of your brand are the most important, and work with your designer to recreate those elements in the design of the exhibit.
It's not always easy, but if it's done effectively, it'll knock your audience's socks off.