Yes, it can be said without fear of being wrong that you will find useful tradeshow marketing articles in Exhibitor. That's their thing. But in browsing their site this week, I found three which I believe go a little above and beyond because of what you can DO by reading them.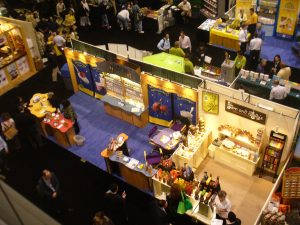 Let's take a look:
How to Measure the Value of Tradeshow Marketing. Complete with downloadable worksheets, this one takes you through the steps to figure out what's really going on with your tradeshow marketing efforts and all of that money you commit to it each year.
Taking the Lead. Collecting leads that are worthy of a challenge in and of itself. When you have to convert those leads to sales, that's when the rubber meets the road so to speak. This article walks you through the steps on grading leads, setting goals, figuring out what questions to ask visitors and more.
Four Factors that Affect Graphic Costs. It seems that graphic design and production is often the item that doesn't get checked until it's too late. And lateness (among other things) can affect your cost dramatically. Check out these factors to help keep your costs in line.
A lot of exhibitors wouldn't do nearly as well as they do without Exhibitor Magazine – often called the bible of the industry. Always good stuff there.