More or less a quick diary of Natural Products Expo West 2018 Day One:
After some twists and turns, we finished setting up the final client booth – Dave's Killer Bread/Alpine Valley Bread – late morning. Thanks to Stacy and her crew at Eagle Management. Another job well done. They also set up Wedderspoon Manuka Honey. Photos of the booths to come once the main halls open on Friday.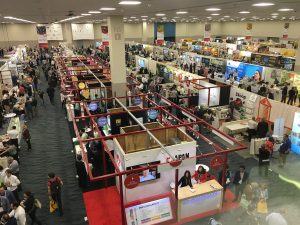 Then it was off to the new North Halls until about five o'clock. A cacophony of noise, mascots, exhibits, and thousands of people. I recall last year that I saw a lot of new bone broth products. Not so much this year. But my eyes did light on a lot of flavored butters: walnut, almonds, peanuts, etc., mixed with fruit berry flavors, making your mouth go OMG that's good! over and over again.
Posted several photos on Instagram and Twitter of mascots and exhibitors, including a shot of a creative cardboard back wall place-holder which made their case while the real backdrop arrived. Do what ya gotta do!
From early-morning yoga (I did my own yoga in the Airbnb I'm staying) to later afternoon and evening live music and drinks, everyone here seems to be having a great time. All the exhibitors are under pressure to make their exhibits look good, and attendees are chomping at the bit to get in and mingle, sample and converse. I'll put together another exhibit awards post next week once everyone is back home and getting foot rubs to help alleviate the soreness from the miles and miles of walking!
Stay tuned!