Of course, we always want to make sure our tradeshow best practices are out on display for everyone at all times. But as Steve Miller says, "Perfection is your enemy."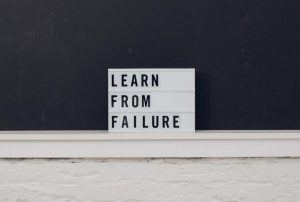 And…we're only human. That means you'll find that your booth staff will sometimes be eating in the booth, or on their phone when people are walking by. Or they'll fail to direct a visitor to the person with the right answer for the question. Or maybe you realize that your pre-show marketing efforts were lame this time around. Or your post-show follow up really left something to be desired.
Sometimes your graphics will be scuffed or torn. Perhaps your flooring is ripped and mended. All of these are irritating, aren't they, because you want to always have the best presentation at all times. But perfection is not attainable.
So, keep moving forward. If one of your staffers is sitting in the back of the booth with hands in pockets, put on a smile and ask them to move to the aisle where they can be helpful. And vow to schedule a trainer who can teach staffers better habits. If your hanging sign or large graphics look great but are outdated because some minor branding thing changed, take a photo and plan to get together with management to find the dollars to make upgrades.
There are times that you'll come up short. There may even be times you consider your tradeshow efforts a failure.
Improvement doesn't happen all at once. But keeping tradeshow best practices in mind every time you're involved in setting up the booth, planning upgrades, scheduling your booth staff and related show logistics, you will see improvement. But chances are you won't see perfection.