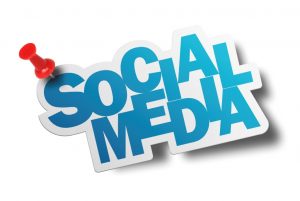 Since social media has become such an integral part of today's online world – what would you do if you had to withdraw from Facebook, Instagram or LinkedIn? – I think the approach to how it is effectively used has changed. And it comes down to a number of factors. I've been thinking recently about how my use of Twitter, Facebook, Instagram and LinkedIn – and to some extent, YouTube – has changed over the years. Thought it might be fun to spend a little time going over that here.
Recent Changes
Let's start with a recent change. When I first got onto Instagram, the name TradeshowGuy was in use, so I picked TradeshowExpert and moved on. Last year, in the process of registering TradeshowGuy as a trademark, I looked again and discovered that TradeshowGuy was no longer being used on Instagram, so I grabbed it. Figured the more accounts I could get with that handle, the better. I use the TradeshowGuy handle on Twitter, Instagram and Pinterest. And have my eye on at least one more.
Back before we called it social media, we called it "Web 2.0," which as a usable term was doomed from the start. I had heard about Facebook, and joined on June 1, 2007, when there were just over 20 million users. Yeah, I know, right? 20 million!
Facebook
For years, I had just a personal account with Facebook, but eventually created a number of organization pages, including TradeshowGuy Blog on Facebook. I tend to not post a lot to that page, because it's never gained much traction, with only 355 current followers. My newsletter automatically posts to the Facebook TradeshowGuy Blog page, and a few other items, but it's lagging in my attention.
Twitter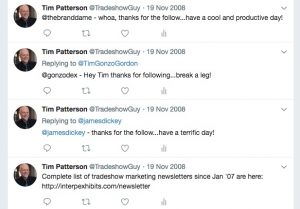 I joined Twitter on November 19, 2008. That's when I first used the TradeshowGuy handle. It's one month before I first posted on this blog. The first blog post came about when I interviewed Magic Seth for an older podcast that I was currently doing. The podcast was very random, with no rhyme or rhythm. Twitter took a little getting used to. Today on Twitter I jump in and out, and admit it's my most-used platform. I'll frequently use Hootsuite to schedule about 3-4 daily tweets, focusing on a mix of promotion of blog posts, videos, podcast, products and some totally random fun stuff. When I'm "live" and not putting out scheduled tweets, they usually are a mix of personal photos, retweets, links to articles I've found in and out of the tradeshow world and things that just interest me. And of course, when people respond or like tweets, I try to acknowledge them with an upbeat response. I also admit that when I just want to zone out and scroll through some social media feed these days, Twitter is my game of choice. It edged out Facebook a couple of years ago.
LinkedIn
I signed up for a LinkedIn account on April 17, 2006. LinkedIn is a good platform for engaging with connections and entities and people you follow, and for letting people know about new blog posts, podcasts and videos. Engagement is modest, but it seems to be consistent. To me it's all about presenting yourself as a likable, easy-going person (because that's what I feel I am!) and avoiding religion and politics. In today's fractured tribal world, I've found through experience that if you post a strong political opinion it can blow up in your face. And it's typically unpleasant. For that reason, I stick to business.
Instagram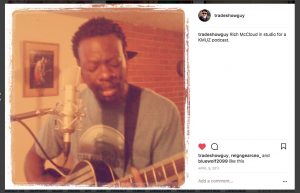 Instagram, being a visual medium, is also great for business and personal. Given that the account has the TradeshowGuy handle, I do tend to toss a lot of business related photos up, but certainly not exclusively. My friends and family know me as TradeshowGuy, so it works both ways. And as I learned a loooong time ago, you really can't keep your personal life and business life separate, no matter how hard you try.
YouTube
The YouTube Tradeshow Marketing channel is used (almost) exclusively at this point for posting the video versions of my podcast. I do use it for other types of videos, but only sporadically. I took a look and see that my first video was posted November 2, 2008, right around the time I started this blog, got on to Twitter and more than a year after I joined Facebook. I am a little surprised that the first video has over 1,000 views! You'll also find how-to videos, and some fun stuff in there as well.
Pinterest
Pinterest is my least-used social media platform, and I think that's a bit of a shame, because when I do go there, I like it quite a bit. I occasionally will add pins to the various boards I have, many of which revolve around technology, music and movies and other fun things. I have noticed lately that there are almost 6,000 views of the various pins I have, so maybe I should spend more time there! But in my experience, creating new pins by uploading photos is a bit tedious, which is probably why I shy away from it.
Overall, while I'm still pretty active on social media, I've pulled back from my busier online days of 2010 – 2012. In fact, back then, this blog focused solely on blog posts about how to use social media with events, conferences and tradeshows. After a ton of articles with just the social/event focus, I opened it up again to the wider world of tradeshows and events. I think social media is important, and when I'm at an event, I'll make sure to post a least a few things on a handful of platforms. I've found that Twitter is the go-to for most event-goers, and Instagram is a strong second. It's easy to include hashtags, easy to share, easy to search, and generally a cleaner look than Facebook.
Live Video
What about video? I use pre-recorded video regularly on the vlog/podcast, as you probably know. But here in 2018, live video is how a lot of people roll. You can hardly go a day or two without seeing some famous person such as Gary Vaynerchuk or Peter Shankman doing a live video on Facebook or Twitter or Instagram. I've done a handful, but my preference is recorded. Live video is fun, but it's not really in my wheelhouse, and unless I'm on the road and have something interesting to talk about, I'd rather not just do live video of me, you know, having breakfast or something. Like some other people! But I expect I'll do more live video as time goes on.
TradeshowGuy Blog
The most important online real estate you can have as a business, whether small or medium, is a blog. With all of the other platforms, you don't own the platform. Rules can and do change, and those changes can have a big effect on how people find you or interact with you. And if you do something against their rules, you can find yourself closed out of your account, and you have to fight to get back in. Doesn't happen often, but it does happen.  With a blog, you are leasing a service which hosts your blog, but you own the content, and you control how it looks. Does it work? Yes, to a degree, but blogging and using social media doesn't automatically bring new business in. In 2016, fully two-thirds of my company's business came from people that found me online. It hasn't been that significant since then, but to me, being out there on social media, and regularly creating content on a blog is one of the best and cheapest ways to be found online – and when people are ready to buy, they go looking for someone that can solve their problems.
Engagement is Key
The bottom line to a successful social media program is to understand three things: realize that it's a never-ending task, that you have to be yourself – even if you're representing a company brand – and that you have to engage. That means responding when people comment or ask questions. And don't wait a day or two or a week. Respond as close to real time as you can.