I've been chatting and emailing with clients and shipping companies this week to schedule pickups and deliveries of crates for tradeshows. Perhaps it's time to share some notes and thoughts that have come up in those conversations.
Some of our newer clients have previously worked with shipping cases with wheels that are much smaller and can be maneuvered by a single individual, and shipped via UPS or FedEx, and can often be checked on an airplane. Moving to large, forklift-required crates is a step out of their comfort zone and working with a good shipping company or an experienced tradeshow exhibit house is a must to get questions answered and reduce mystification about the whole process.
One critical piece of information that shipping companies want to know to provide an accurate estimate is the weight and size of the shipping crates. While shipping crates vary in weight and size, most of the crates we work with are approximately 8' H x 4' D x 4' W and weigh between 800 and 1200 pounds. Which means they are expensive to ship and need a forklift to move them around. But if your crate is similar and you don't know the exact size and weight, if you give them that information you can at least get an estimate that will be in the ballpark.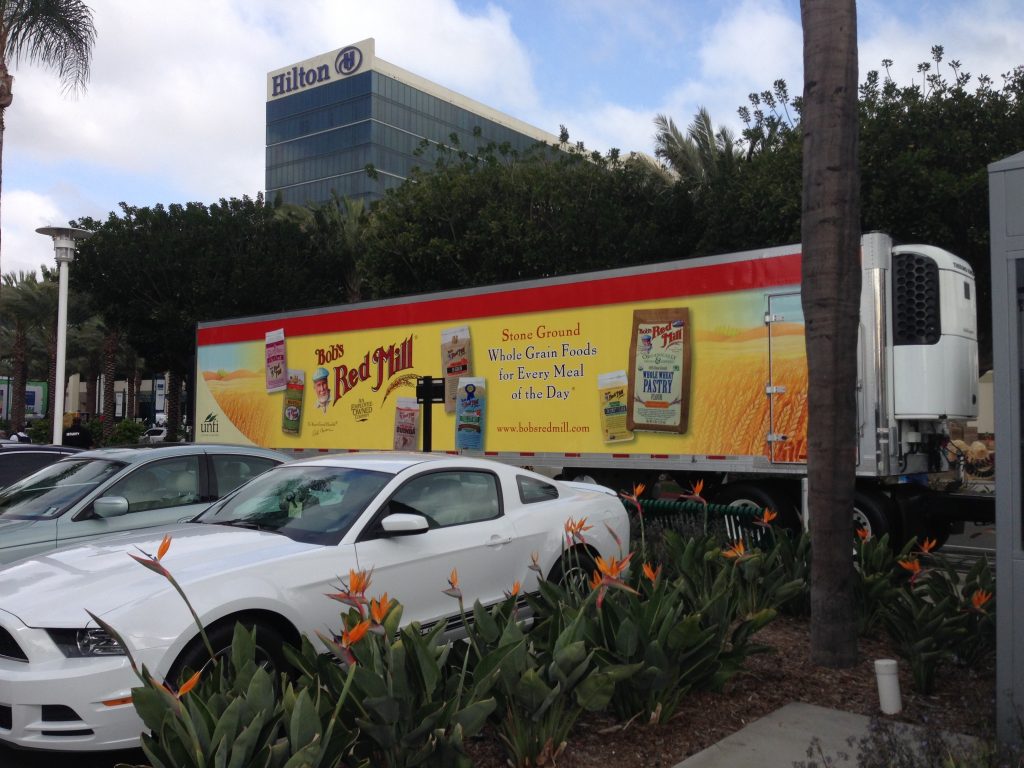 When delivering to the advance warehouse, the advantage is that you know your crates have arrived safe and sound and in plenty of time. If you're shipping direct to show site, many shows have targeted freight move-in which means that the truck must arrive on the right day at the right time to make the delivery. Bigger shows often have a separate marshalling yard where the trucks must first check-in prior to making the delivery to the show site. And when shipping to a show site, your driver may have to sit and wait for several hours while on the clock prior to delivering. Typically that doesn't happen when shipping to the advance warehouse as they are receiving freight spread out over several weeks.
When delivering to the advance warehouse, you'll incur material handling (drayage) charges based on the actual weight of the shipment. For example, in Anaheim at the Natural Products Expo West, material handling for booth materials runs to $112.50 per CWT (per hundred pounds) (carpeting is charged at $180 CWT), and if the crates arrive after the deadline, a surcharge of 30% is levied when all is said and done.
Some shipments may incur special handling charges, which include ground loading, side door loading, constricted space loading, designated piece loading, stacked, cubed-out or loose shipments, multiple shipments, mixed shipments, improper delivery receipts, and uncrated shipments. Having a shipper walk you how to prepare your shipment properly can help avoid additional costs.
Over the last few years I've had numerous shipping companies reach out to me to pitch their services. Yes, there are a lot of shippers, and they're all looking for more business! I've gotten quotes at times, and rates vary but not a lot. Some companies ship tradeshow-only goods and tout their higher levels of service. Shipping your tradeshow exhibit crates can run up the bill, but combine materials (send products in a crate with your booth instead of sending a separate crate, for example), make sure it's all clearly marked, and work with an exhibit house or shipping company that can assist you if need be.