It's 2020. Seems like everyone wants something new. After all, this century is no longer a teenager! Hey, if the century were a human, it could almost drink!
So…what's new in the tradeshow industry?
At TradeshowGuy Exhibits, we work with a handful of vendors: designers, manufacturers and other suppliers in the tradeshow industry.
Classic Exhibits
Our main partner since we started this business has been Classic Exhibits. If not for them, we wouldn't be in business. Classic Exhibits is a 'white label' manufacturer that designs and sells products through a network of distributors. They've gone from kind of a kit designer and manufacturer to doing a lot of custom work. It's where the industry is going, and Classic Exhibits is among the companies leading the way.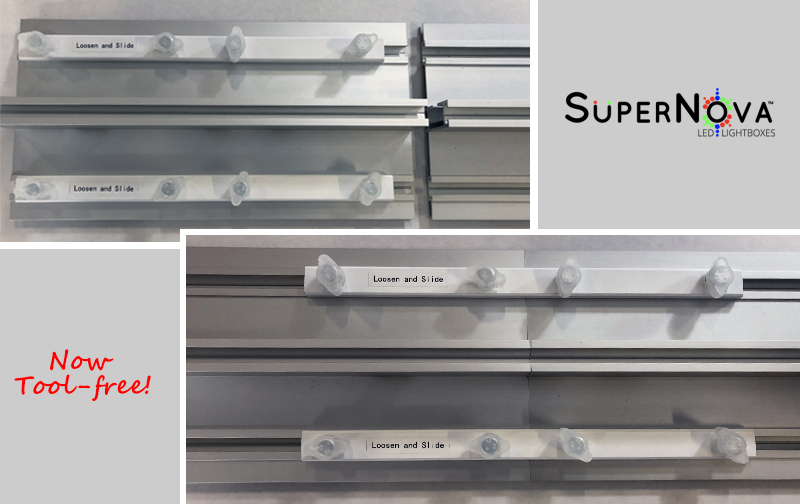 And when they introduce something new, it's good. More than good. It's groundbreaking. In the last couple of years, they introduced Gravitee, a tool-less exhibit system that sets up easily, breaks down quickly and ships flat. It's made a difference to clients of ours at Classic Exhibits. In fact, the first time we set up a Gravitee wall with an installation and dismantle crew, they were impressed with how easy and quickly it went up.
Now Classic is introducing Tool-Less SuperNova Lightboxes. Check out their blog post here, and then look through the selection on Exhibit Design Search. Let me quote:
Our new Tool-less SuperNova Lightboxes achieves all of those goals. While there may be more "complicated" solutions, there are none stronger or easier. We estimate the new tool-less connectors reduce assembly by 70-80%. Plus, the splines and the corner connectors can stay on the extrusion reducing the possibility of lost parts. Even the translucent knobs are innovative since they eliminate shadows and reflections.
Can't wait to see these in action.
---
Orbus
We also work with Orbus, which provides numerous – maybe countless – options for popups, banner stands, table throws and more. They have high quality combined with budget pricing – a good combination.
And they're kicking off 2020 by introducing a variety of new products, including digital banners, outdoor tents, shaped signs, smaller (and larger) HopUp fabric stands, and more. Many of these are lightweight, easy to set up by just a person or two, and priced right. See the selection of new designs and products here.
We've enjoyed working with other manufacturers and vendors through the years, but when it comes to something new, both Classic Exhibits and Orbus have taken the initiative to keep bringing the "NEW" to the New Year.