This article has been updated.
A week before Natural Products Expo West 2020 was set to open, I got an email from one of the tradeshow exhibit houses handling brands for Unilever, which had several brands at Natural Products Expo West and had acquired one of our clients, Schmidt's Naturals, a couple of years ago. They had made the decision to pull out of the show due to concerns over the spreading Coronavirus COVID-19.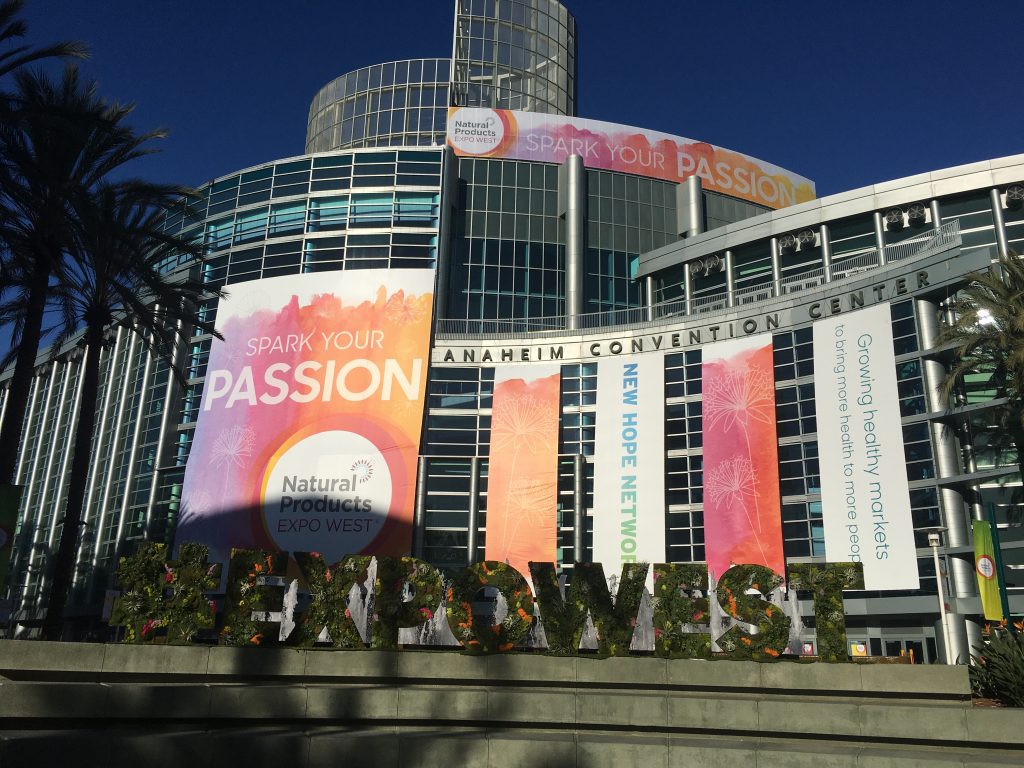 A day later, another client pulled out. Then another. Then another. By Monday the 2nd, when I was set to fly out to the show from Portland, I had one client out of nine that was still planning on being there. My plane was scheduled to fly out at 5:30. As I sat on the tarmac after boarding, I got an email from the last client that they had decided to pull out. By now, I was seeing on Twitter that as many as 40 – 60% of exhibitors and attendees would probably not show up, making the show a shell of its former self.
Finally, a few moments before wheels lifted, New Hope, the show organizers, sent out an email saying that they had decided to "postpone" the show.
And away we flew.
The next morning, I went to the Anaheim Convention Center with hundreds of other exhibitors and logistics managers to work through the logistics of getting crates shipped back to where they came from. Some crates had made it to the show floor. Some exhibits were already mostly set up.
It took most of the day to track down all the pieces of the clients that had items that needed to be shipped back.
A shoutout to the crew at the GES Service Desk at the Anaheim Convention Center. To a person, they were all cordial, pleasant and extraordinarily helpful.
We all wondered when the event would actually take place. Maybe not until next year?
A Few Thoughts and Questions
I've had the chance to speak to several people at the show, along with clients who had to bail or were forced to retrieve crates and packages, clients that had invested in the show with updated exhibits or in some cases, new properties.
No one knows what comes next. Not the exhibitors, not New Hope, which put a positive spin on it, saying "It is our intention to deliver a Natural Products Expo West event before the summer to serve the community, either in Anaheim or a suitable alternative location."
I don't see that happening, and neither do most of the exhibitors I spoke with. New Hope is obviously the professional experienced entity that has put on shows for decades. But exhibitors and others are asking where and when such a re-scheduled Expo West 2020 might take place? And if they can find a place that would accommodate the event, how many exhibitors would actually be able to show up, given that companies spend months putting things together to schedule an appearance at a large international show like Natural Products Expo West?
So yes, lots of questions.
But the big one for me is: if they manage to find a location and date that fits, what would change in the situation that would allow the show to go on?
And by situation, I mean the spreading Coronovirus. According to Worldmeter, the virus continues to spread unabated. Experts say we're a year to a year and a half from having an effective vaccine. Many people seem to still be in fear mode over the spread.
But not everybody. I do believe that the essence of Natural Products Expo West is that, being a food sampling platform, it's much different from say, a technology tradeshow. Many, if not most, non-food tradeshows are going forward. People still gather by the tens of thousands at events. People still board flights, go to grocery stores.
And the number of those infected keeps increasing, and will likely continue to increase.
Back to the original statement: the underlying situation has not changed, and doesn't look like it will change in the near future which would allow a rescheduled Expo West to take place "before summer" as New Hope states. Given that, if nothing changes, I don't see a rescheduled event taking place before mid-June.
In fact, if nothing changes, it's quite possible the same issues may lead to a postponement or cancellation of Expo East in September in Philadelphia. Yet to be seen, obviously.
If the underlying Coronavirus situation doesn't change, the only other thing that might change is the attitude and knowledge. We might learn more in the ensuing weeks and months that the virus isn't as dangerous as the ongoing fear promulgated in lots of big media outlets would have us believe. Company leaders might come to realize that the risk of having their people at a show as either exhibitors or attendees is so low that a prudent decision would have them participating.
Other shows go on with no problem. Will Natural Products Expo West or Expo East continue this year?
Stay tuned.
---
Additional information:
Influenza is much more deadly than Coronavirus. "…at least 12,000 people have died from influenza between Oct. 1, 2019 through Feb. 1, 2020, and the number of deaths may be as high as 30,000."
World Health Organization Q&A on Coronavirus