I was in Salt Lake City last Monday the 20th through Friday the 24th attending the Outdoor Retailer Summer Market 2009 show, thanks to Dean and the great guys at Lifelines. Now if I can only convince the powers that be that I need to be there in January to review the same show. Just because I'd…uh…like to see the area with snow on the mountains. That's it! Got nothing to do with the fact I've been a skier since the age of seven…nope.
Unfortunately I was unable to blog during the show, so I made notes to gather my thoughts for a post-show post. Did manage a few tweets from the show from the busy bank of PCs at @tradeshowguy.
Twitter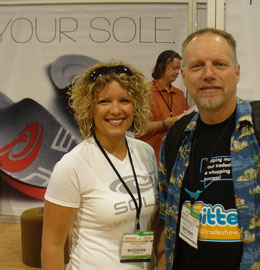 First thing at the show was to respond to several of the tweeters that were doing things to draw people to their booths, like Sole Shoes, who were offering a pair of 'platinum sandals' to the first dozen people to come to the booth to say 'It's Your Sole!' Which I did, and they did. Also chatted with some great folks at @ENDFootwear from Portland…not sure who is the Tweeter there, though.
Other Twitterers I ran into over the course of the show include: April at @naturallybamboo; Stephanie at @merrelloutside, Brandi at @itsyoursole, Andy the @aquapac designer, Karen and others at @HidesRetainer, Ze'ev at @Zensah, Byron and Davidson of @ecologicdesigns and @greengurugear… Others I couldn't find as they were never at the booth, or were just too damn busy to come talk to @tradeshowguy! Ah, well, it was great to connect with a handful. And of course at the Tweetup hosted by @PembaServes where I chatted with – among others – Sara Lingafelter (@theclimbergirl) and Fitz Cahall (@dirtbagdiaries) and more…enjoying terrific food and libations at Cedars of Lebanon in downtown Salt Lake City.
Promotions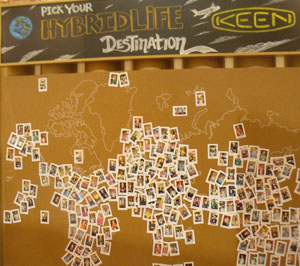 Impossible to keep up with all the promotions; you can't be everywhere at all times. But there were some standout in-booth events/promotions that caught my eye (as well as many of the attendees):
Keen Shoes of Portland: taking photos of people and pinning them to a large bulletin board where they answered the question: where would you like to travel in your Hybrid Life (promoting their hybrid life shoes)? My answer? Jamaica. After collecting names and handing out buttons for three days, Keen gave away $1500 to someone to help them make that trip. No, I didn't win! During the same time period they gave away the grand prize, Keen also sold a couple of styles of their sandals for $35 (about half price) with all proceeds going to a fund-raiser.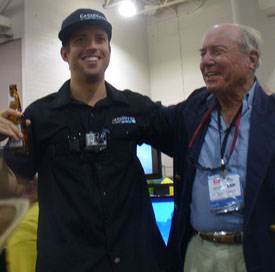 GoPro sport camera did a rather loud promotion several times throughout the show, which I stumbled across twice. The founder of the company (don't think he mentioned his name!) is a natural promoter, getting his crowds to shout out the product name several times. Of course, handing out a couple of dozen GoPro cameras over the course of a few days doesn't hurt, either!
Aquapac had several great nature photos on display and ended up giving a handful away on Thursday afternoon before the big run-up to the grand prize of a Baja Mexico whale-watching trip.
Booth size and layout
Not having been to Outdoor Retail before, I wasn't sure what to expect. But after walking the floor for an hour, the most obvious thing is that large companies here like LARGE booths, enclosed walls on 3 or 4 sides, second stories and lots of display space. A 100′ x 60′ was not uncommon.
Green exhibit construction was also at the forefront, with graphics printed or mounted on cardboard; recovered wood used as booth walls (from barns or old houses); cardboard tubes, and even booths cobbled together from wire fencing, bike frames, small trees – you name it, this show has it. I came away with a strong impression that most of the companies involved are very aware of the impact on the environment of their booth-building choices.
Dogs and Kids
Yes, ORSM09 is a dog and kid-friendly show. Lots of dogs and lots of friends. Even ran across a post from @theclimbergirl as she highlighted the 'Dog of the Day.'