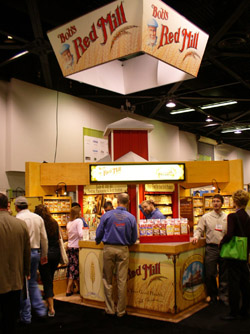 A recent LinkedIn discussion focused on 'What questions do you ask yourself when deciding on an exhibit for a tradeshow event?'
There were a lot of answers and discussion on the topic, and after I chimed in with my two pennies' worth, it got me to thinking: what does it take to even commit to a tradeshow marketing effort?
If you're a new company looking for marketing opportunities and markets to tap, or a company that's never done a tradeshow, it's an interesting question to ponder.
In other words, what is the lead-up to the question asked in the LinkedIn discussion?
To my mind, the decision to even get into tradeshow marketing should begin with a handful of questions:
Can we reach a valuable market via tradeshows?
What will it cost us in terms of money and resources?
Is it a short-term or long-term effort?
How will it affect our image in the industry? In our market?
If we get involved, who's going to do it?
After this, you'll evolve to questions that may be particular to your company, but those are good questions to kick off your internal discussion.
Tradeshow marketing can be an incredible boon – or bust – depending on how well you do it.
You're laying a lot on the line. Take time to examine it from all angles before jumping in the pond.