Just wrapping up the three-day Event Marketing Summit at Chicago's Hyatt Regency – and so how has it gone?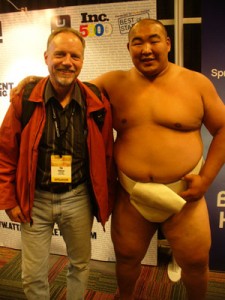 First, the real reason I came was that I was invited to speak – and that I did. Beyond that I had a chance to attend learning sessions with some great presenters from a wide variety of folks in the event marketing world – and network with people from across the country and as it turns out, several countries as well.
On Monday I gave a 40-minute presentation 'The Tradeshow Four-Pack: Twitter, Facebook, LinkedIn and YouTube" on how to use social media to promote tradeshows, events and conferences.
Had a great time doing the presentation and received very positive feedback. I've included the slide presentation below. Having put together a lot of webinars and live presentations, I try to use the slides to support the stories I tell and the points I make. So – unlike a lot of slide decks – there aren't as many statistics and detailed information as you might like to see. But that's the point: the slides should support and enliven the stories – not tell them for you.
In watching other presentations throughout the past two days, most (but not all) of them went overboard with information on the slides. And most presenters ended up almost reading many of the slides verbatim.
There was one presentation – a keynote by author Scott Belsky ("Making Things Happen") – which to my mind was extraordinary for a couple of reasons. First, Scott is obviously an accomplished presenter. He knows his topic inside and out – he's lived it. Second, the slides were there to support his presentation – not to BE the presentation. The visuals he used to help illustrate the stories were well designed, easy-to-understand and were enhanced but not overwhelmed with animated elements.
One of the best reasons to attend an event like the Event Marketing Summit is for the networking. This event it set up with numerous networking opportunities and even for a hesitant networker such as myself it's a lot easier to reach out to people and find out who they are and what they do and to see if there are opportunities to help them out.
The event is bigger and broader than I thought it would be. At the opening luncheon it was announced there are about 1000 people attending, including many from other countries.  It seemed like half the people I met, though, are from Texas! I did encounter Carol Abade of EXP, who came with a group of eight from South Africa.  Her company puts on a conference every October and may bring some speakers over from the states. She asked if I'd ever been to South Africa. No, but it would be quite an experience – so, yeah, I'm game!
Mozes provided text message survey results and updates throughout the conference. In fact, at the beginning of most presentations (but not mine!), the moderator asked everyone to respond via text to a survey question, with results being shown in real time.  The survey results were interesting, but it seemed at times that they felt like because they had the service, they had to use it – some of the questions seemed contrived. Nonetheless it was a good tool and it got people engaged at the outset of the sessions.
I used a service called Opiniator to ask three separate questions during my presentation. I liked the display of results in Opiniator better than Mozes, simply because they were shown in graphical form and to my mind easier to read (see screen shots of the results as they were displayed in the attached slide deck).
As far as the actual presentations, my overall judgment is that they were generally of a higher quality than I've come to expect at events like this. Speakers seemed more prepared. They handled questions adeptly. Slide decks – for the most part – were appropriately balanced between offering too much information and being too bare. There were some presentations, however that fell short in at least one respect. I tweeted after one presentation that whoever designed the slides should have kept in mind that slides are free. Instead of putting ten slides' worth of information on one slide, they could have broken it up into ten slides. Putting too much info on one slide does a couple of things: first, they're harder to read and second, if you are able to read all of the information, it's natural to jump ahead, read the entire contents of the slide and make the presenter superfluous. As a presenter, it's not in your best interests to do that!
From an organizational standpoint, the Event Marketing Summit is exceptional. The Hyatt Regency facility is set up to handle all of this. Everything went off without a hitch (from my perspective – who knows what happened behind the scenes!), so the attendees all seemed pleased with the event overall.
Dan Hanover, the General Manager with Red7 Media Division of Access Intelligence, was my main contact. Red 7 is the publisher of a number of magazines in the event and media industry, including Event Marketing, EXPO and Event Design, and produces numerous events nationwide tied to the magazine audiences, along with smaller regional events. Red 7 Media was acquired this year by Access Intelligence.
Kudos to Red 7 and all the speakers for a fabulous and engaging event.