So you're going to shoot a tradeshow teaser video to get people to be aware of your upcoming appearance whetting their appetite to see your company's exhibit at the show. But you're rarely messed around with video. Maybe you don't like getting in front of the camera. Or you don't know what to put in a brief video.
Well, let's take a look at ten things to think about when assembling your video.
1. Know whom you're talking to
What is your intended audience thinking about the issue you're going to talk about? Are they well informed? Ill-informed? Mis-informed? The more you can understand the mindset of your audience, the better your video will be. In the case of creating a short video that relates to a tradeshow appearance, does your audience know anything about you company or your product? Are they familiar with the show? Do they have the proper context for your presentation or are they coming in from the cold?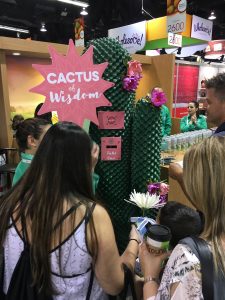 2. Pick a single topic and stick to it.
You've seen videos that try to do everything and cover a lot of ground. In the case of a short teaser video, know exactly what the topic and don't waver. If you have more than one reason to invite people to your booth, do more than one video.
3. If you're going to be on camera, rehearse your presentation a few times, but don't overdo it.
There are other ways to create a video than to use a video camera. A screen-capture program, for instance, is a great way to put a video together without actually getting in front of a camera. But if you're going to put your face onscreen, rehearse it a few times until you feel comfortable with the bullet points you're going to cover. And yes, you should just cover bullet points, and NOT read a script. By rehearsing it a few times you'll get comfortable with how you're going to say it. Record a few times and go with the best. Don't worry about perfection – there's still no perfect presentation – but just relax and let it flow and you'll be fine.
4. Fancy production or not?
In most cases, there's no need for fancy production. If you're a service company such as a dentist or accountant, just be real and show people who you are. If your company is a high-end video production company, yes, you should show your chops! But in most cases, expensive production is lost on YouTube. It depends on the expectations of your audience, which are being lowered continuously thanks to a lot of low-end video production.
5. Authenticity
Want to impress people? Don't try and be someone you're not. If you can show who you REALLY are – your AUTHENTIC self – people will find that much attractive than a horse-and-pony show that has little to do with who you are.
6. Don't waste time – respect people's time and use it wisely
If you have 60 seconds worth of information, don't use three minutes to get it all out. Be short and sweet and then get it over with. Respect people's time. If they get used to your short (and respectful) videos, they'll have a greater inclination to come back and see more.
7. Don't do a hard sell – talk conversationally
This goes back to authenticity. Most people don't speak in a hard-sell mode in social situations. Imagine you're in social situation and you're talking casually with a friend or colleague. Now, use the same approach on your video and you'll be fine.
8. Solve a problem
If you can describe how your product or service solves a problem in 60 seconds or less (and you should be able to do that!), you have a great chance of getting people to show up at your booth or shop. What exactly does your product do? Do you have a proven result? Tell how your solution will improve their situation. Share it.
9. Subtitles can increase response.
Okay, I have no evidence to support this! But to my way of thinking, by showing subtitles you are reinforcing your message. Of course, there are a few people that don't hear well and the subtitles may assist them in understanding what you're talking about. Plus, it's a good place to put a phone number or web URL. Most video editing programs allow you to insert text on the screen. Again, don't overdo it – but use it.
10. Put a smile in your voice!
One of the first and best lessons I learned when I got into radio as a teenager: put a smile into your voice! It comes across…really!