If you've been doing tradeshow marketing for years, and you're edging into social media, good for you. Companies that work intelligently to drive traffic to their tradeshow booths are showing some great results.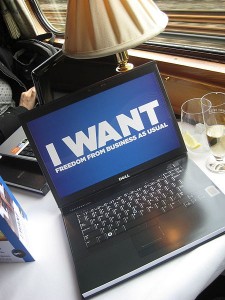 But do you have a blog? If so, are you using it to its full effectiveness? If not, why not? Perhaps you should consider blogging. The presence of an active, engaging blog can make the difference between closing a deal or not, all other things being equal.
Here are some reasons to consider blogging:
It's a marketing tool that's much easier to maintain than a newsletter. You can add and change it at any time.
You want to influence people in your market.
You want to be seen as a thought leader or industry leader.
You have an expertise and you want to share.
You like engaging in debate with strangers, who can often become friends and perhaps even clients.
It helps you get found online. Blogs are search-engine friendly.
Blogs can bring your team together. As an example, the 300-employee company Hubspot in Boston invites any employee to contribute to the blog, which allows them to have several posts a day offering a number of viewpoints and various useful information.
Blogging forces you to stay sharp. By continually coming up with material you're always learning and sharing what you learn. As a result, you become smarter and more well-known for knowing more than most people in your industry.
As a result of blogging people will ask you questions, which leads to you learning even more.
Creating great content leads to sales. Seriously. When you create great content, you create trust, which brings in people that are interested in your content. Those people often become business leads, and leads often become sales.
Creating content leads to comments and discussions. Those comments allow you to learn from readers to find out exactly what they're interested in. It also gives you insight in to the pain points they're experiencing. And in a sales call, knowing those pain points and how to solve them leads to sales.
So what about tradeshows, events and conferences? How can blogging help in your event marketing? Let's take a look.
By having a blog platform, you are able to share more information about what happened at the event in real time.
As the date of the show gets closer, your blog is a platform for sharing what you'll be doing at the show. Classic Exhibits' lead-in to their appearance at Exhibitor this year was a perfect example. Their regular blog readers saw the various videos they posted that teased their Exhibitor appearance.
A blog is a perfect platform for posting multi-media from the event: audio, video and photos. This is a great place to interview happy clients and post those video clips on your blog, which become power testimonials for your product or service.
Once the show is over, your blog is a place to do continual follow-ups. Material that you compiled at the show can be spun out on your blog over the next few months.
Yet, in spite of all of these great reasons to blog, make no mistake: blogging isn't easy, and there's not necessarily a direct payoff from all of the effort that goes into a blog. However, an active blog can be a powerful tool and is often the difference between making a sale or not when going head to head with a competitor who is not blogging.
(photo by Annie Moles, courtesy commons.wikimedia.org)