Are you going to a tradeshow simply to sell products?
Right! Of course you are!
But seriously, there's more to a tradeshow than just selling. Among other things, there's no doubt that you're there to build brand equity and credibility.
From a practical standpoint, your tradeshow booth not only has to function to meet your exhibiting goals, but the booth itself should shout "THIS IS US!" without anyone saying a word.
From the look and feel of your booth to the style of interaction with your visitors, anyone who drops by should go away with a distinct feeling of what your brand is all about.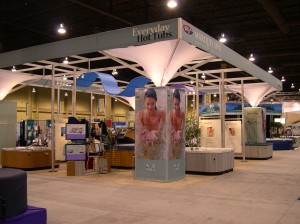 Having seen the design process from initial discussion to final fabrication and set-up, I can say that creating a booth that helps build brand equity is not an easy thing. It's also not that hard. Anyone who's been with the company for a few years knows the brand inside and out. They know who their customers are, they can describe the brand in a sentence or two and they know how their products are perceived in the marketplace. They also know how they separate their brand from their competition.
All early discussions in a booth-building process should focus on the brand: who you are, what you do, how does the marketplace perceive you, etc. You have collateral on hand that aptly demonstrates the brand. All of this will be communicated to the designer, who – if she's competent – can craft a design that does indeed should "THIS IS US!" to any tradeshow visitor.
Beyond the look and feel and function of the booth, though, when you exhibit at a tradeshow, you are giving visitors the most important aspect of your brand: your representatives. These are usually employees, although some reps may be hired professionals, which should know your business and product line inside and out. They should be 100% aware of the company's goals at the show – and how those show goals may differ from other shows – so that if any visitors pops an unusual question, they can address it confidently, whether it means finding someone who knows the right answer, or if it's even a question that should not be answered at all.
A visitor will not stop at every booth at a tradeshow. That's impossible – there's not enough time! A visitor will leave the booths they visit with a strong impression of the company. That impression will be gathered from the few moments they stop at a booth: the look and feel of the booth and the interaction of the staff, and the product offerings. Miss one of the links in the chain, and the impression may be easily outweighed by one or more of your competitors.
The way you draw your visitor to your booth also plays into their perception of your brand. Did they receive an email invitation? A direct mail piece? Did they see a tweet or read about your appearance on Facebook or Google+?
Every bit of the pre-show invitations and post-show follow-up should adhere to the line of building brand equity.
The sum of all of these efforts is the final impression that your visitor receives from your show appearance. How many pieces are you missing? How many are complete?