Where are you in the life cycle of your tradeshow booth? What impact would it be to your company to upgrade at this point vs. waiting another year or two?
The life of a tradeshow booth generally goes something like this:
Realizing your company has outgrown the old booth and making plans for a new one.
Designing a new booth based on current company needs.
Brand new booth and loving it!
Year 1 – 2: It doesn't exactly fit your needs but you're still doing fine.
Years 2 – 4: Making small adjustments and liberal use of on-site repairs. You feel like MacGuyver.
Making bigger adjustments and repairs as time goes by. The thing is starting to rival Frankenstein's monster.
Realizing that you're about to outgrow the booth in so many ways, like that old bathing suit from when you were a teenager.
Finally putting a budget together for a new booth.
Repeat every 5 – 7 years.
Admittedly, every company and booth experiences the booth lifecycle in its individual way. Some companies want a new booth every couple of years, and others are proud that they've used the same booth for nearly twenty years! True! I've talked to them!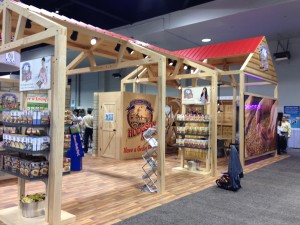 Once the booth crates or cases make it to a floor, they run into hundreds or thousands of other companies trying to setup their booths as well. Forklifts run wild. Ladders fall. Screwdrivers are dropped. Graphics and other pieces don't fit as advertised and are hammered into place.
You can see why, given the somewhat destructive nature of how a booth 'lives,' it's no surprise anyone that they need constant attention, repair and TLC.
So how can you extend the life of a tradeshow booth and when can you tell it's time to move to something completely new?
One simple recommendation is to update graphics regularly. Refreshing the look of a booth with re-skinning it with new graphics is an economical and quick way to makeover the booth. The skeleton, or the main structure, of the booth, usually is good for five to seven years. By dressing the skeleton in new clothes regularly, the life cycle of the booth can be extended.
If you purchase a booth that's designed to be expanded by using modular components, it doesn't take much to expand that 10' inline booth to a 20' or 30' or even a 20' x 20' island. That way you aren't really buying a new booth, you're just adding to your existing property. A good exhibit house will discuss these options with you when you first consider a new booth. That way the initial investment is a part of the booth as its given new life.
Maintaining longevity means being flexible. It means being willing and able to adapt to changing needs in your company. If you purchase a 10' x 30' booth that can also be setup as a 10' or 20' inline, you have the flexibility to attend several different shows with different layouts. If your designer is aware of your long term needs (any good designer will be by asking good questions before starting a design concept), flexibility will be built-in from the very beginning.
Add to that flexibility by adding and subtracting items such as counters, iPad kiosks, workstations and more depending on the needs of a specific show. Change out fabric graphic panels, add wings to the walls or a swoopy thing here and there to draw attention.
Getting the most out of your investment is key to increasing the usability and life cycle of your booth, not to mention increasing the overall ROI of your investment.
Tradeshow marketing takes place in a challenging environment. The more you can plan and prepare for the longevity of your booth, the further you'll extend the dollars you are investing.