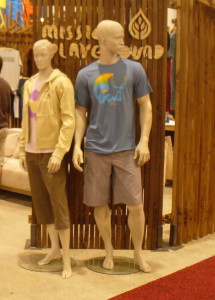 I've seen several writers and new sources chime in recently on the controversy of hiring models, aka 'booth babes' at tradeshows to attract attention.
Here the CBC looks at the continuing controversy.
Fortune Magazine covers a story where the RSA Conference, a top tech conference in San Francisco, has banned those scantily clad girls.
The Geek Feminism Wiki describes what exactly is a 'booth babe.'
The Infotainer, Anders Boulanger goes into it in a couple of places on his blog, and nails it.
I don't have much add, except for a few questions for the marketing geniuses who think that hiring an attractive scantily-clad model is going to bring in more leads and close more business.
First, do the models represent the essence of what your company is all about? Do they really show off what your company is all about? Unless you're a company that rents dancing girls, probably not. Instead, the girls tell attendees that you really don't have a specific product or service that is more important than, well, scantily clad girls. How do you explain that to clients?
Do the scantily-clad women attract potential buyers? Doubtful. More likely they're an eye-candy distraction that will probably repel (read: embarrass) true buyers and draw in only those who are there for a quick gander, who will then also be embarrassed and quickly retreat because they're intimidated.
Do your 'booth babes' help convert prospects to buyers? Again, in most cases: NO. Spencer Chen has done the math in detail here, which is a brilliant takedown of the idea that booth babes will help bring you more customers, but suffice it to say that someone hired strictly for their ability to draw in a specific type of male attendee probably won't do you any good in getting a potential buyer to convert to a client.
Finally, in today's world where 'booth babes' are already a controversy, why in the world would you court controversy when you're trying to increase leads and close more accounts?